Accusations of infidelity ended in murder on Wednesday when a Crane, West Coast Demerara (WCD) man stabbed his reputed wife to death and then attempted to take his own life by ingesting a poisonous substance.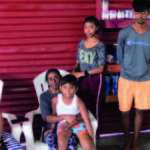 Dead is Bibi Zameena Ali of Lot 15 Old Road, Crane, WCD, who was accused by the suspect of being unfaithful to him.
Speaking to reporters on Wednesday, the dead woman's mother, Rashpattie Persaud, recounted that she was awakened by her daughter's scream on Wednesday. The woman recounted that she rushed out of her bedroom and saw her son-in-law stabbing her daughter. The grieving mother said she too started screaming and pleaded with the man to stop but it was too late.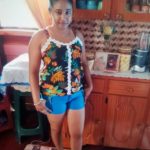 "I hear a screaming and somebody just holler 'mommy, mommy' and I jump up. My grandson was already awake and he go in the room and he tell me his father was about to stab is mother again, so I talk to him and I said gave me the knife, but he not giving it to me…so I go on my knee and start to cry and beg him to give me the knife and I hold his hand and take the knife away from him. I told him go outside let me look after my daughter but I didn't know my daughter was already dead," Persaud explained.
Meanwhile, the woman's sister, Amanda (only name given), in between tears shared that prior to Ali's death, the suspect, on numerous occasions, would threaten to take her life but regardless, she did not make a Police report.
"Every time he does threaten she, the last time they had some problem that was last month, he go till at she workplace and start chuck-up she and suh, and she had to getaway and hide from he but we never expect this," the woman recalled.
The mother of three was described as a hardworking woman who cared for her children. She leaves to mourn her mother, siblings and three children.
"She don't live bad with nobody. When she come home she gon hustle mek she thing dem cook she fancy food for she children dem, she was a very, very good mother and wife and she ain't deserve it," the sister said.
Meanwhile, the suspect is hospitalised and under guard at the West Demerara Regional Hospital.