Consultants from the United States-based firm, International Republic Institute (IRI), that will be providing technical support to the Guyana Elections Commission (GECOM), as well as a Ghanaian elections expert, have arrived in Guyana and been briefed by GECOM.
This was announced by GECOM Commissioner Vincent Alexander on Tuesday, at the conclusion of the statutory meeting. According to Alexander, at least two of these individuals from Jamaica would have met with GECOM last week.
"I know of two individuals who have been engaged by IRI and they're supposed to be technical advisers to GECOM. IRI has made an offer to be engaged in civic and voter education… they met the Commission last week.
Two persons from Jamaica. One was the previous Chief Elections Officer and one is the current IT (Information Technology) person in the Jamaican Elections Commission," Alexander further explained.
Meanwhile, fellow GECOM Commissioner Sase Gunraj explained that one of the individuals is Orette Fisher. Fisher is a former Director of Elections in Jamaica. He resigned from the role in 2018 amid a court case regarding his tenure in office. It was only last year that Fisher was part of the Commonwealth observer mission to Nigeria for its general elections.
GECOM Public Relations Officer Yolanda Ward also announced that Commonwealth Senior technical advisor, Dr Afari Gyan, has arrived in Guyana. In fact, Gyan met with the Chair of the Commission, Retired Justice Claudette Singh, and members of the Commission.
Gyan is a Ghanaian academic and experienced election administrator who holds a PhD in Political Science. He served as Chairman of the Electoral Commission of Ghana from 1993 to 2015.
According to his Ghanaian alma mater, he also graduated from the University of Ghana in 1967 with a BA degree in Philosophy. He went on to attain a Master of Arts (MA) degree in African Politics in 1969 from the same university. He also studied in the United States, where he was awarded a PhD in Political Science from the University of California, Santa Barbara in 1974.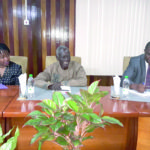 Ward also explained that a team from the Commonwealth Secretariat is in Guyana preparing for the full observer mission. She said that Dr Syed Nasim Zaidi, an elections advisor from India who is also expected to join the team, will arrive this month-end.
Dr Zaidi previously served as 20th Chief Election Commissioner of India. He is also a retired Indian Administrative Service (IAS) officer and has a Master's Degree in Public Administration from Harvard.
He has also served as the Director-General of Civil Aviation and as a Permanent Representative of India on the council of International Civil Aviation Organization (ICAO). This was before his stint as India's Election Commissioner and Chief Election Commissioner.
When it comes to external help, GECOM had previously announced it would also be getting assistance from Jean-Pierre Kingsley, a Canadian elections expert. It had been announced that Kingsley was expected to arrive sometime this month.
When contacted by this publication on Wednesday, Ward confirmed that Kingsley arrived since last week and has been meeting regularly with GECOM but will not be fully based in Guyana as he will be travelling back to his home country and then returning.
Kingsley, whose appointment was announced back in October, is being funded by the Canadian Government. The former Canadian Chief Electoral Officer served from 1990 to 2007 during which he participated in many significant international development missions aimed at promoting democratic electoral processes through cooperation, capacity building, and mutually beneficial relationships.
He also provided electoral assistance to several Caribbean countries, including Trinidad and Tobago. According to his profile on the Canadian elections body website, Kingsley was proactive during his term in office, recommending and promoting key initiatives to make the electoral process more accessible.