By LaWanda McAllister
The children of a 59-year-old market vendor who had been a mother of six were heard screaming in agony as they came face to face with their mother's lifeless and shattered remains, left sprawled on the roadway after being hit but a speeding minibus.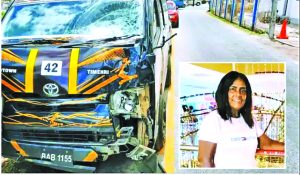 Debra Salikram, also known as "Aunty Sookie", a popular food vendor of West Ruimveldt Estate Housing Scheme, was killed at Middle Road, La Penitence, Georgetown on Tuesday morning. The fatal accident occurred at around 06:00h and involved minibus BAB 1155, which was being driven by a 29-year-old man of Supply, East Bank Demerara (EBD), and motorcycle CK 1126, which was being driven by the woman.
Inquiries disclosed that the minibus was allegedly speeding south along the eastern side of the La Penitence Public Road while the motorcyclist was proceeding north along the eastern side of the said road, and it reportedly turned west, into the path of the minibus.
As a result of the collision, the motorcyclist received injuries about her body. An ambulance was summoned, but the motorcyclist was pronounced dead on the scene.
A breathalyzer test was conducted on the driver of the minibus, but no trace of alcohol was found in his system.
"We need justice!"
Following the accident, Guyana Times visited the home of Salikram and spoke with her husband, Mark Marks, who said his wife had left home early on Tuesday morning to purchase items to prepare for selling when she was hit by the bus.
The man said his wife was on her way home when she was killed.
"We need justice! She was hit in the corner… she was a hard-working person she was loving with people…" he said.
According to the woman's family, she had been vending for the past 20 years, and would sell at schools and market areas to provide for her family.
Her daughter Nikita Mars told this publication that now that her mother is dead, everything in their family is over, because their mother was the pillar of their family.
"Now that my mother is dead, everything done. I don't know how we will continue; I don't know what we doing… If he know he wrong…he got to get he time…".
This daughter and her mother had had a very close relationship, and her sudden passing has come as a shock to the family.
"Up to yesterday (Monday) me and me mother went in town buying stuff, and the last I see she was 5:30… she does everything for she grandchildren. She would buy food, drink, everything for them. She would carry them to school, bring them home…".
The family said Salikram had had no reason to work, but she did it because she loved what she did, and loved putting smiles on her customers' faces.
"This is really hard…I can't believe I saw my mother like that. She lie down there and her body brake up into pieces, all she foot sprawl. That is a real hard knock she get. All the bike brake up. I heard, and when I go out there, I see her body lie down…," the daughter has said.
Meanwhile, the woman's eldest daughter, Sue Ling, who lives in the United States of America, has said she had last spoken to her mother on Monday evening, and she was planning on hosting family members who would be travelling to Guyana soon.
Ling said the last thing she told her mother was that she would be sending some items to her in two weeks' time for the family holiday. Hours later, she got a call that her mother was dead.
"I am devastated…she was very happy, and said she can't wait to see them (her family). She asked me to buy this and that for her, and I was getting up to send it to her in two weeks…".
Salikram was killed more than three years after her son was killed. In September 2018, Salikram's 25-year-old son Jason Marks was killed by accident at the corner of Middle and Carmichael Streets, Georgetown. He died while receiving treatment for his injuries.