By Ashraf Dabie
Seventy-one-year-old Chitraykha Sankar, a mother of seven, succumbed to injuries she sustained moments after being run over by a canter (motor lorry) a short distance from her Lot 61 Houston, Greater Georgetown home on Thursday at about 7:00h.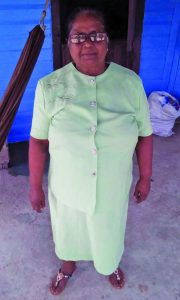 Reports reaching Guyana Times detail that the accident occurred as the woman was making her way over the Houston Public Road in returning home from clinic. She was unable to complete the crossing, as the canter, registered to K&G Shipping Company and heading towards Georgetown, swept her off the street.
Ramnarace Sugrim, a family friend of the deceased, was present at the scene of the accident and explained what transpired: "Well, she coming from the west side to the east side (of the roadway), and she came up to the crossing and the truck was coming, and then the truck pick she up and brace the wall (median) with her, carrying she under the truck."
Sugrim indicated that Sankar sustained severe injuries to her head and about her body, and succumbed minutes after the accident despite him making every effort to assist her.
When this publication visited the residence of the deceased, her children and grandchildren were in profound shock over the incident. Nanda Sankar, daughter of the deceased, revisited the moment when she received the news, and outlined what had transpired when she rushed to the scene.
"My neighbour, he come and start banging on the door and said my mother got in an accident. When I go out there, she was lying on the ground with blood all over her face," a distraught Nanda said.
The devastated daughter noted that her mother had not yet died, but after she had failed to secure assistance to get her to the hospital, the woman succumbed to her injuries.
And Sankar's granddaughter (who requested anonymity) reiterated that response in rendering assistance to her injured grandmother had been slow. "My grandmother was a peaceful woman, and she get a sudden death that I can't believe it. We ask so many persons to give we assistance, but no one gave us. Even the soldiers (ranks present at the scene) we asked and they drive away."
She also conveyed the inappropriate reaction of the driver of the K&G canter following the incident. "The driver was behaving bad! He ain't behave nice at all! That is a driver, and he supposed to give assistance, and he ain't give nothing at all. He even curse up my husband," the distressed woman indicated.
Guyana Times understands that this driver was seen boarding a minibus and seemingly fleeing the scene. However, he was later discovered to be at the Ruimveldt Police Station when Sankar's relatives went to file a report. He was taken into police custody, and was later present at the scene of the accident, assisting with the investigations.