A plastic recycling project was on Friday launched in New Amsterdam, Region Six (East Berbice-Corentyne).
The project, which cost some US$46 million, is being run by the Grace Temple Assembles of God Church. It has already started producing items from recycled bottles, and soon intends to be producing construction blocks.
Already, Grace Temple Assembles of God Plastic Recycling/Upcycling Centre has been producing earrings, plant pots, and school items like rulers from the recycled bottle caps.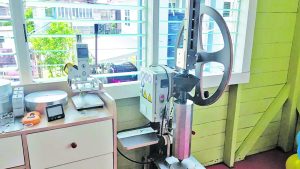 "We are going to use the bottles to make construction blocks in which the shredded bottles would be incorporated into the concrete to make pavement blocks which you can use to make walkways, etc. We are also hoping that it can be used in the foundation of buildings, thus utilising or getting rid of more of the bottles that will be available to us," Project Coordinator Roxanne Ward has said.
Grace Temple has partnered with GEF Small Grants Programme and the United Nations Development Programme (UNDP) for funding.
According to Ward, the church is also partnering with secondary schools in New Amsterdam and Rose Hall Town for the supply of bottles. At Friday's launch, bins were presented to the participating schools.
"Because the schools have been identified as one of the largest single users of plastic bottles on a daily basis. So, we have partnered with them. The bins will be placed in the schools, and we will collect the bottles twice weekly, thus giving us a constant supply of the bottles that we will need."
The project is expected to employ about ten persons, and according to Ward, there is also room for volunteers.
"Two hours of work in the evening will allow us to do a whole lot. It is not very time-consuming to get the shredding done; we can shred a lot of bottles in two hours, and then, at another time, we do the mounding and another set of persons can then be attaching the key rings or the earring hooks."
Meanwhile, Regional Manager of the Environmental Protection Agency, Sasenarine Tomby, pointed out that plastic pollution has emerged as a pressing environmental challenge of our time. As such, he said, the plastic recycling and upcycling programme in New Amsterdam serves as an inspiration to other groups and communities who want to make a difference in combatting plastic pollution.
The project, he noted, showcases what can be achieved when communities, schools and Government agencies unite to address a shared challenge.