Texas-based National Oilwell Varco (NOV), a leading oil and gas drilling and production equipment provider, opened its first base facility in Guyana on Thursday, joining the country's emerging energy sector.
This Wellsite Service and Tuboscope facility at Plantation Rome on the East Bank of Demerara adds to the base facilities the company has in 11 Latin American countries.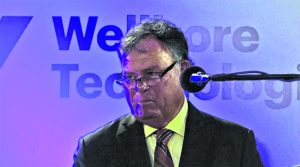 An industry leader, NOV offers technical expertise, specialised equipment, and operational support in areas of drilling and production, taking into consideration the safe production of energy with minimal adverse impacts on the environment.
The company made its first trip to Guyana in 2020, working with ExxonMobil through Sustainable Environmental Solutions (SES), to help with the recycling and reusing of drilling materials.
Now, as the country's oil and gas sector continues to grow expeditiously, NOV's new facility offers them a chance to be active participants in Guyana's development, with plans to expand to include more Guyanese in their workforce as well.
"We have a small handful here now, we are growing it and we hope to do a lot more here and we will grow it with a very intelligent, hardworking workforce," NOV President Mark Lapeyrouse stated at the opening.
NOV also houses a thermal distortion facility at Guyana Shore Base Inc and works closely with SES which houses an estimated US$4 million in parts for the oilfield services company.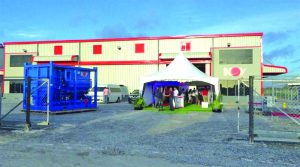 Senior Petroleum Coordinator at the Natural Resources Ministry, Bobby Gosai expressed that major investors like NOV are welcome in Guyana as they will expand the local content services available in the country.
"Services like [NOV], through [their] partnership, will now be added to what we can measure as local content simply because the goods, services, and technology are available in the country," Gosai said.
Gosai added this is also an opportunity to increase the skills within the Guyanese workforce.
"The oil and gas that is produced in Guyana and the services, products, and skills that are needed are world-class and companies like NOV and [their partners] need to have specialised skills," Gosai said.
"Having personnel here in Guyana [who are] trained and being able to man and manage these types of operations is very important," he said, adding that these activities are set out in the country's Local Content Law.
Gosai also said that over the next few months, the Government will be working on further regulations and ways in which they can improve the facilitation of further business growth, opportunities and revenue-generated capacity for Guyana.
Meanwhile, Guyana Office for Investment (GO-Invest) Chief Executive Officer, Dr Peter Ramsaroop assured NOV that they have made a successful investment.
"Our Gross Domestic Product (GDP) grew 62 per cent last year and [is set to grow] 35 per cent in the next four or five years," Ramsaroop said.
"No investor has to wonder where Guyana is going, no investor has to wonder whether or not the Government is investing in their people, investing in education, training and healthcare – those are all public directions that His Excellency is taking us," he added.