The National Enhancement Exercise began on Saturday morning, with President Dr Irfaan Ali leading the charge along the entire stretch of the Kingston Seawall.
This forms part of the massive clean-up exercise that saw the participation of Cabinet members, public and private sector officials and volunteers across the country in a continuous beautification effort spearheaded by the President under the "Men on Mission" and "One Guyana" initiatives.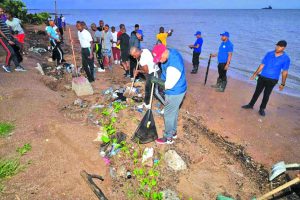 Other Georgetown locations for this exercise included Savage Street, Mandela Avenue to Haags Bosch, Riverview to Houston Bypass and Ogle's Shell Gas Station.
While President Ali started the Seawall exercise at 5:00h on Saturday, similar efforts were made across the country.
Minister within the Public Works Ministry Deodat Indar led a team in cleaning the junction of Mandela Avenue and Houston Access Road while Minister within the Office of the Prime Minister with Responsibility for Public Affairs Kwame McCoy conducted the exercise on Savage Street alongside Guyana Defence Force (GDF) members.
In Port Kaituma, Region One (Barima-Waini), Housing and Water Minister Collin Croal guided the clean-up efforts with Regional Chairman Brentnol Ashley and Deputy Regional Executive Officer Shem Cuffy.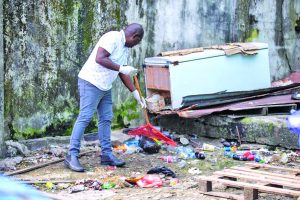 Residents and volunteers across the different regions are also doing their part including Mabaruma and Matthew's Ridge in Region One; Mora Camp, Itaballi, Karau and Four Miles in Region Seven (Cuyuni- Mazaruni); Mahdia in Region Eight (Potaro-Siparuni) and Wismar in Region 10 (Upper Demerara-Berbice).
As part of the enhancement exercise, the Private Sector Commission, led by Chairman Komal Singh, joined the branding company Impressions in erecting 10 anti-littering signs and planting 20 plants along the Rupert Craig Highway.