Muneshwer's Limited on Tuesday donated a range of health and sanitation products to the Guyana Senior Men's National Team as players and staff begin preparations for 2022 FIFA World Cup qualifiers in March.
Following approval from the National COVID-19 Task Force, the Golden Jaguars commenced training this month at the Guyana Football Federation (GFF) National Training Centre at Providence with strict hygiene and health protocols in place, including COVID-19 tests, mask wearing, and the regular sanitisation of equipment.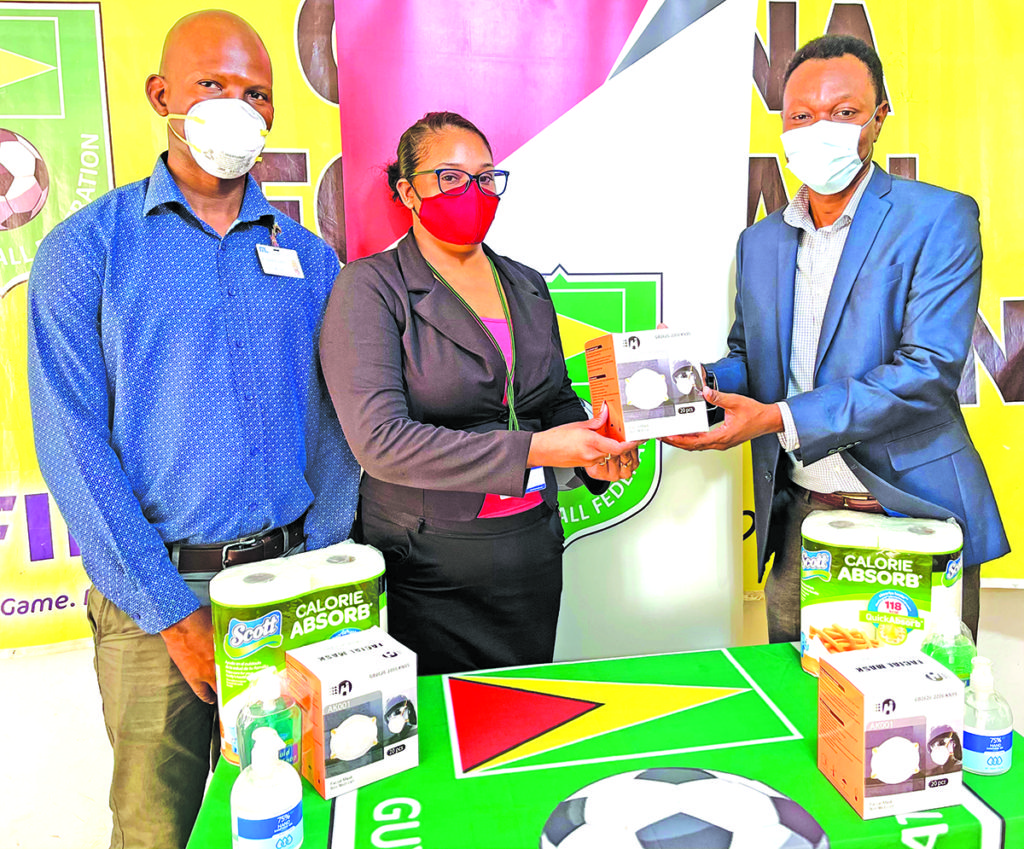 To support the team, Muneshwer's has provided high-quality masks, hand sanitiser, soap and paper towels to ensure that players and staff remain as safe as possible while in training.
"On behalf of the management of Muneshwer's Limited, we are very pleased to partner with the Guyana Football Federation and to donate these items that we hope will go a very long way in assisting the organisation," said Richard Coddett, Health, Safety, Security and Environment Manager at Muneshwer's.
"Muneshwer's, as part of its corporate social responsibility, is very pleased to be part of this partnership, and we will continue to do much more of this because we understand the importance of football in society and the role it plays in helping our youths."
The handover took place at GFF headquarters in Georgetown, with GFF Executive Committee member Dion Inniss receiving the essential items from Coddett and Muneshwer's Secretary Priscilia Ramcharran.
"We would like to extend our gratitude to the Muneshwers board and senior management; we welcome you with open arms. As Mr. Coddett mentioned in his remarks, this will not be the company's last gesture, which is already good news," Inniss said.
"The Golden Jaguars are embarking on a very exciting journey to the 2022 FIFA World Cup in Qatar. Cognisant of the protocols and regulations that we must adhere to, we have reached out to seek assistance from corporate Guyana for sanitising products and equipment, and Muneshwer's has been the first to step forward to assist us."
"The World Cup campaign is an extremely expensive venture, if you want to be serious about it, so we are extremely grateful for this gesture and we look forward to other corporate entities coming forward to assist us," Inniss said.