Jefford Track and Field Classic…
By Timothy Jaikarran
Renowned global sports brand Under Armor will be part of the Jefford Track and Field Classic through a partnership inked with MVP Sports and Urban Life on Friday. This was done in a simple ceremony at the Giftland Mall in Turkeyen, Greater Georgetown.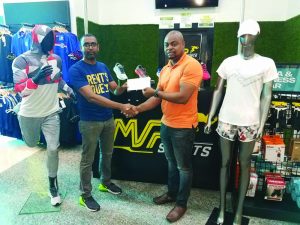 The Jefford Classic is scheduled for Sunday, August 11, at the Mackenzie Sports Club Ground in Linden. Founder of the Classic, Edison Jefford, said, "As you know, MVP has been the sole distributor of Under Armor gear in Guyana, one of the most renowned brands in sports. We are happy to have such a brand on board for this event. This definitely shows that we are heading in the right direction in terms of support for sport and development of sport in Guyana.
"Under Armor, MVP Sports, Urban Life, these brands will be associated with the male and female 400m events. They will also sponsor the champion male and female events, which include $25,000 worth in Under Armor gear and $25,000 each for the male and female champion athlete, along with trophies.
"So we are happy to have this sponsor on board for these items, and we wish them much success in the future."
Also speaking at the simple ceremony was representative of MVP Sports, Ian Ramdeo, who related that the Giftland Group has been a longstanding supporter of the event, since its conception. He also noted that the MVP store is interested in a long-term relationship with the event.
Ramdeo said Corporate Guyana need to step up their game in terms of their support of sports in Guyana. He also indicated that the Under Armor brand is happy to render support to the Classic, and wishes it many successes in the near future.
This track-and-field event has had participation from several of Guyana's most popular athletes since 2010, including Aliann Pompey competing for the first time in Guyana at the Second Edition in 2011, and Marian Burnett a year later. Every notable Guyanese athlete has competed at the Classic, with most holding meet records, including Brenessa Thompson and Winston George.
This meet is coordinated in accordance with International Association of Athletics Federations (IAAF) Rules, and is sanctioned by the Athletics Association of Guyana (AAG).
The meet's major sponsors this year are: ExxonMobil; ANSA McAL Trading Ltd, under the Rush Energy Drink; I-Cool Water, Lucozade, Heineken, Magnum Tonic Wine brands; National Sports Commission; DeSinco Trading Ltd, under their Swiss Brands; and Let's Bet Sports.