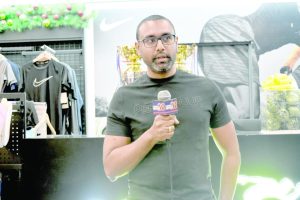 The MVP Sports Futsal tournament is expected to culminate tomorrow night in a wave of thrills and excitement and with two blistering finals on the cards.
Both the male and inaugural female tournament finals will be contested tomorrow night at the National Gymnasium on Mandela Avenue. For the women, Tiger Bay will oppose Fruta Conquerors, while the men's final will see Bent Street taking on Future Stars.
In a pre-game press conference on Thursday at the MVP Sports' branch at the Giftland Mall, Petra Organization's Co-Director Troy Mendonca spoke to the uniqueness of the tournament, while predicting an exciting final.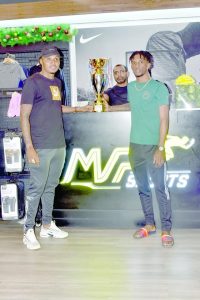 Mendonca related, "I said unique because it's the first ever MVP futsal tournament that has the girls' segment as part of it. I also want to say that this tournament is a tournament for the teams and the people. We anticipate a very exciting final on Saturday. We have Conquerors and we have Tiger Bay, a fusion of club and community teams. And we have the – I refer to them as giant killers – Future Stars, because, as you know they knocked out one of the favourite teams in this form of competition.
"And then we have the big, mighty Bent Street. I think the fans are in for a treat on Saturday," The Petra Co- Director shared.
Meanwhile, MVP Sports' proprietor Ian Ramdeo is quite pleased with the tournament thus far, as he also shared his expectations.
"MVP Sports is very pleased to be a part of this particular format of the game, especially because it reaches into the communities and the grassroots of football, and we're definitely looking forward to an exciting final," he said.
Meanwhile, fans, organizers and sponsors are not the only ones pumped-up for Saturday's games. Speaking with media operatives, team representatives vowed to put on quite a show.
Tiger Bay's Afena Baptiste pledged, "We're going against Fruta Conquerors, and we're expecting to bring home the trophy."
"On Saturday, we're expecting to dominate completely and take home the trophy by all means necessary," Fruta Conquerors' Hasha Holder shared in reply.
Meanwhile, Nicholas McArthur of the Future Stars had a word for the team's fans.
"I would like to thank the fans that have supported us from the start of this tournament; and come Saturday, we won't let you down," Mc Arthur said.
"You could come and expect a very good final. We won't be taking anybody lightly," Bent Street's Akel Clarke has promised.
In addition to the final games, the two third-place playoffs will also be on the cards on Saturday night. The MVP Sports final showdown is expected to commence at 20:30hrs.
The men will battle for a $500,000 grand prize. Second place is worth $300,000, while third place is worth $200,00 and fourth place $100,000.
The women will fight for a chance to grab the $200,000 first prize. Second, third and fourth places will be rewarded with $100,000, $50,000, and $25,000 respectively. Additionally, the male MVP and a fan will ride away with motorcycles, compliments of Luminous.
Aside from title sponsors, the tournament is supported by ANSA McAL through their Lucozade and Magnum brands, Luminous Manufacturing and Distribution, and the Ministry of Culture, Youth and Sport.