By Timothy Jaikarran
After the hosting of the highly-anticipated Jefford Track and Field Classic X, MVP Sports Store at Giftland Mall, Liliendaal, Greater Georgetown, unveiled its partnership with champion athletes Cassie Small, Natasha Alder, and Jermaine Simmons.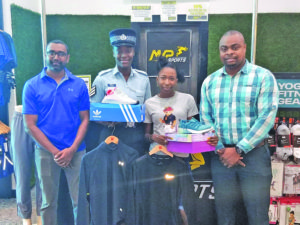 Jefford Track and Field Classic founder Edison Jefford said: "Once again we are grateful we are officially concluding the 2019 edition of the Jefford Track and Field Classic by rewarding our top athletes with their respective prizes. Here we are this morning standing by our word and commitment, compliments of Under Armor, MVP Sports, and Urban Life. I would like to extend my thanks to Mr Ian Mahadeo (MVP Sports CEO) in supporting me for so many years. I sincerely want to thank him for his contributions not only to the Jefford Classic, but to athletes in general in Guyana. You athletes deserve the top gears as a testament to your hard word."
Also speaking at the simple ceremony was CEO Ramdeo who said, "I just wanted to say that our support is something that is ongoing for us as it does not stop at this particular event. We want to continue to be a part of helping athletes realise their dreams. I would like to say thanks to Edison for allowing us to be a part of this event and we would want to continue to support in the future. Most importantly, congratulations to the athletes for your hard work and hope that you can continue to do well in the future as you reach for greatness."
The Under Armor, MVP Sports, and Urban Life brands will be associated with the male and female 400m events. They will also sponsor the champion male and female events; prizes will include $25,000 worth of Under Armor gear and $25,000 each for the male and female champion athlete, along with trophies.
Small won the 100m (12.02s), 200m and 400m (one minute, 03.7s), while Alder also came up big, winning the women's shot put (12.55m) as well as the women's discuss event (37.92m). Simmons won the male discus event and placed second in the shotput.