The Guyana Cricket Board (GCB) released the national Under 17 squad on Friday some 15 hours before the unit departs for Trinidad to compete in the Region -17 Tournaments.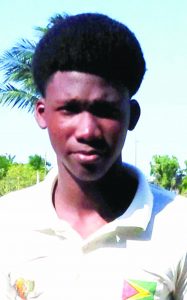 The delayed announcement of the squad has disappointed cricket lovers throughout the nation some of whom have criticized the GCB for its late announcement of several youth squads in recent years.
The squad includes Ashmead Nedd, Kevlon Anderson, Qumar Torrington and Sachin Singh among others.
The team will commence their first game against the Windward Islands Under- 17 on Tuesday July 11 and complete a total of five rounds in the tournament while aiming to lift the championship honours this year.
The squad is scheduled to depart Guyana at 10:20 hours today and will be returning on the 19th July, 2017.
The fourteen -man squad is led by Manager/Assistant Coach, Nazeer Mohamed and Coach, Orin Bailey. The skipper of the squad was not identified in the released.
Squad: Alex Algoo, Sachin Singh, Orlando Jailall, Junior Sinclair, Kevin Christian, Kevlon Anderson, Lance Roberts , Alphius Bookie, Ashmead Nedd, Pradesh Ballkishun, Gevon Schultz, Reyaz Khan, Qumar Torrington and Kelvin Umroa.