BCB Banks Beer 2-Day 1st Division cricket…
Some of the country's top cricketers from the ancient county of Berbice will take centre stage as the second round of the Berbice Cricket Board (BCB) Banks Beer 2-Day First Division tournament continues.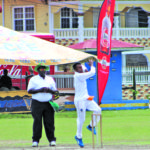 After a break, the second-round fixtures will commence over the weekend, Saturday December 7, and Sunday December 8, with four venues set to host matches. Port Mourant will host the Rose Hall Town (RHT) Namilco Thunderbolt Team at the Port Mourant Community Centre Ground.
The Thunderbolt Team had drawn their first-round encounter with Rose Hall Canje, and will be aiming for a winning result with the return of West Indies Emerging Player Kevin Sinclair.
Besides Kevin Sinclair, the RHT team will rely on newly appointed skipper Eon Hooper, Shawn Pereira, and Junior Sinclair, among others.
Trounced by Albion in the first round, Port Mourant will be equipped with West Indies Under-15 batsman Rampertab Ramnauth, who scored a half-century in the first round against an Albion team that featured Devandra Bishoo.
The Albion team will play Rose Hall Canje at the Rose Hall Canje Community Centre Ground; and Jonathan Foo, Veerasammy Permaul, Anthony Bramble, Devandra Bishoo, Rajiv Ivan and Kelvin Umroa are some of the big names expected to turn out for Albion.
Rose Hall Canje will rely on the services of promising West Indies Under-15 fast-bowler Isai Thorne and first round centurion Kedar Amsterdam.
In the other fixture, Blairmont will host Tucber Park at Cotton Tree, West Coast Berbice. The return of Guyana Jaguars' paceman Nial Smith will boost confidence in the Tucber Park team as they confront a young and vibrant Blairmont team.
Home team Blairmont will have the expert services of Shabeer Baksh; Kevin Jawahir, who scored a brilliant century in the first round; and Javid Karim.
The Blairmont unit will also enjoy the services of National Youth players Seon Glasgow, Nigel Deodat and Marvan Prashad.
The fourth fixture will see Young Warriors and West Berbice battling for supremacy at the Young Warriors Ground.
Additionally, the Trophy Stall Under-13 final is set to bowl off today, Saturday December 7. Albion and Rose Hall Town will lock horns at the Area H Ground from 10:00h. (Brandon Corlette)