Upon culmination of the first ever Spikedown 2K19 volleyball tournament, Young Achievers volleyball club prevailed as the champions and thus cemented their place as the dominant club in Guyana.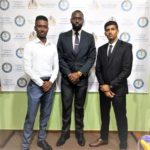 Andre Jagnandan, one of the organizers of the tournament, is optimistic that, come 2020, a bigger tournament will be staged, and everything would be on better terms.
In the finale, Demerara teams Premier Eagles and Young Achievers came up against each other in a highly- anticipated grudge match, in which Juan Velasquez and Creston Rodney stepped up their game to allow Achievers to take a convincing lead in each set, and eventually win the tournament 3-0.
After the tournament, Andre Jagnandan was asked how he had viewed the playoffs. He told Guyana Times Sport, "It was a successful tournament, everything went smoothly; all out-of-town teams were adequately accommodated. The tournament drew a lot of locals to watch the games, which was the main aim of the tournament. It was live-streamed, so we got a lot more views, and moreso, the players enjoyed themselves.
"SPIKEDOWN was lauded as the biggest tournament in volleyball history in Guyana. Well, a coordinator can create more exposure for players through regular tournaments and sponsorship, but when teamed up with the GVF and the NSC, the door opens for international relations; so, I'm hoping to be at the forefront of multiple national team games next year."
Jagnandan also revealed his desire to host a female volleyball championship in 2020. He noted that most of the planning for this new tournament will be partnered by Kristoff Sheppard, the second organizer of Spikedown 2K19.
Jagnandan boldly declared that his vision is to revive volleyball at UG and push for an interschool tournament, and that he would be contending for position in the Demerara Volleyball Association (DVA) elections.