In a bid to formalise relations it shares with the National Toshaos Council (NTC) and the World Wildlife Fund (WWF), the Natural Resources Ministry on Wednesday signed a Memorandum of Understanding (MoU) to formally establish relations.
The MoU will also pave the way for the Ministry to establish and maintain an effective communication channel with the Indigenous communities, through – but not limited to – the NTC and therefore promote tits programme as it relates to Guyana's Indigenous stakeholders and other interested parties, and to work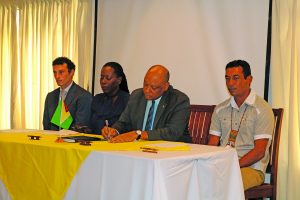 together on any other issues as may be mutually agreed upon between the parties.
The collaboration between those two parties will ensure the mandate as set out in Part IV, Section 41 of the Amerindian Act 2006 as it relates to the areas of good governance and the preparing of strategies and plans for the protection, conservation and sustainable management of Indigenous community lands.
Meanwhile, the MoU between the Natural Resources Ministry and the WWF serves as a renewal of a previous one.
"It will now continue the working relationship between the Cooperative Government of the Republic of Guyana and World Wildlife Fund Inc, and extend it to incorporate specific relations between WWF; Ministry of the Presidency – Department of Environment (DoE); Ministry of Natural Resources (MNR); the Environmental Protection Agency; Guyana Forestry Commission; Guyana Geology and Mines Commission; Wildlife Conservation and Management Commission; Protected Areas Commission, Office of Climate Change, Department of Fisheries, Non-Governmental Organisations and Community-Based Organisations for the implementation of the WWF Guianas programme of activities in Guyana," the Ministry explained in a statement.
Attending the event were the Natural Resources Minister Raphael Trotman; NTC Chairman Toshao Nicholas Fredericks; Director of Environment, Ndibi Schwiers; WWF Guianas Representative Laurens Gomes and a few other officers.
Trotman, who gave the feature address, alluded to the Ministry's commitment to its motto to "Explore, Develop, Sustain" and said that it was recognised that these values could not be realised without strong partnerships. He said that it was upon this foundation that the MoUs with the WWF and the NTC will rest, since these agencies are recognised as partners who care about the sustainable management and development of the sector.
The Minister also noted the productive engagements that the Ministry has had with both the WWF and the NTC in the past. The WWF has been a consistent partner and has provided financial, administrative, institutional and technical assistance and support to key natural resource agencies.