COVID-19 pandemic
…loan interest rates likely to be lowered, new Response Unit established
With over 500 cases of the novel coronavirus recorded in the country to date, President Irfaan Ali has stuck to his promise to hit the ground running in responding to this public health crisis which has already claimed the lives of 22 citizens.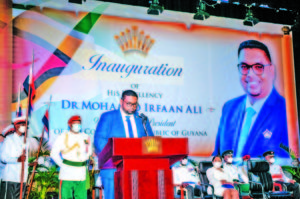 In stark contrast to what the former Government managed to accomplish during their protracted time in office, the seven-day-old Administration has already procured a multitude of resources to aid in the fight against this global pandemic and more plans are now underway, including securing a whopping $4.5 billion, for COVID-19 response initiatives.
During his inauguration speech on Saturday, President Dr Ali announced that "we have commenced work on securing immediately an initial sum of $4.5 billion as emergency response to help at the household level".
Additionally, he said his Administration has already met with the Governor of the Central Bank, Dr Gobind Ganga, and directed him to extend regulatory permission so as to allow for bankers to continue extending moratoriums.
Further, President Ali said the Administration also looked at the possibility of adjusting the Reserve Requirement which will allow the banks to have more disposable resources and tying that adjustment with lower interest rate.
Moreover, they have started to examine from a fiscal perspective what support can be provided to the Private Sector and other groups, all with the view of supporting a resumption of the economic activities and putting people back to work.
The Head of State further revealed that "we have reached out to several multilateral and bilateral sources with a view to urgently mobilise financial resources of the magnitude that is necessary to overcome the effects of this pandemic. I must say the response has been encouraging."
According to President Ali, his Government has already made many strides in responding to the COVID-19 pandemic despite being just one week in office.
"Since taking office, in just one week, we have mobilised and received 46,000 rapid antibody test kits, Personal Protection Equipment, approximately 240,000 surgical masks, and face shields, gowns and other urgently needed supplies," he reminded.
Barbados donation
In addition, he said Prime Minister of Barbados, Mia Mottley has sent some 15,000 PCR test kits; and by next week, the country will receive some 10,000 kits from the Pan American Health Organisation (PAHO) which has committed to supplying an additional 40,000 kits.
Moreover, Ali said his Government has accessed three PCR testing machines with two more being sourced, and plans are in motion to train persons, including persons from the hinterland areas, in the use of the PCR machines and rapid test kits.
In his message, President Ali lamented that too many Guyanese have lost their lives and have been affected by the novel coronavirus, and as such, he committed to doing "everything possible" to protect the country from this "dreaded and dreadful disease".
"That is why, as President, I will personally and urgently participate in my Government's programme to stop infection by the coronavirus, curb its spread, and safeguard the health of our nation," he said.
New COVID-19 Response Unit
President Ali also announced that his Government is in the process of creating a COVID-19 Response Unit comprising Government policymakers, represented by the Prime Minister Brigadier Mark Phillips and the Minister of Health Dr Frank Anthony, as well as regional and international partners such as the Caribbean Community (Caricom), PAHO, and the United Nations Development Programme (UNDP).
According to the Head of State, the Unit will be guided by a collaborative policy to address medical responses and to create a COVID-19 impact socio-economic plan for the people.
Importantly, he asserted that "we are dismantling the political intervention and structure and the bureaucracy and we are putting in the hands of policymakers who are capable and competent to deal with this issue."
The former David Granger-led A Partnership for National Unity/Alliance For Change (APNU/AFC) Administration had initially established a COVID-19 Task Force comprising solely of ministerial representatives and political appointees to deal with the pandemic.
Civil society organisations, including the members of the Private Sector, had called for the Task Force to be more inclusive – to no avail.
The Granger Administration had been accused of utilising the heavily politicised Task Force mainly for political purposes rather than to truly address the public health crisis that has gripped the nation.
In fact, the former coalition Administration has been accused of using the COVID-19 pandemic as a weapon.
For instance, the Task Force made questionable recommendations regarding the 33-day National Recount exercise which got underway at the Arthur Chung Conference Centre (ACCC) regarding the number of working stations to be allowed and the working hours. The Joseph Harmon and Moses Nagamootoo-led caucus had been accused of ordering unjustifiable measures in a bid to stymie the recount activity – which proved that their Administration lost the elections.
Moreover, the then President, David Granger had used the pretext of "COVID-19 protocols" as a means of blocking The Carter Center and other international electoral observer missions from returning to Guyana to observe the National Recount – even though he allowed the Caricom Observer Team to return as well as approve other flights to land in Guyana during the period where the airports were closed owing to the pandemic.
In another case, the Task Force effectively approved the hosting of public meetings by the APNU/AFC coalition even though such activities are a violation of the very measures the body had instituted.
One notable project of the former Administration to fight the COVID-19 pandemic was the refurbishing of the flood-prone Ocean View Hotel into an infectious disease hospital to house infected patients. But now, the project is mired in controversy since the hotelier is claiming that the Granger Administration never acquired his property even though it spent some $1.6 billion to renovate it. Additionally, though former President Granger himself commissioned the facility on July 30, it is nonfunctioning. (G11)