Two days after bandits terrorised and robbed two men at Apaiqua Landing in Mazaruni, Region Seven (Cuyuni-Mazaruni), the police have arrested two persons.
Commander of E Division, Senior Superintendent Linden Lord on Sunday stated that the men were positively identified as the perpetrators by the victims. Lord stated that the men are being questioned in connection with the robbery while noting that once investigations are completed, charges will be instituted.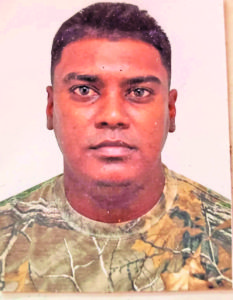 It was reported that 31-year-old Tameshwar Sookram of Enterprise Squatting Area, East Coast Demerara (ECD), was attacked and chopped. In addition, 42-year-old Brazilian businessman Jose Da Silva was also attacked and chopped during the ordeal.
Reports are that at about 01:30h on Friday last, Sookram was asleep in his apartment when he was awakened by two men, who demanded money. One of the men was armed with a gun and the other with a cutlass.
Sookram reportedly refused to comply with the bandits' demand, and as such he was attacked and chopped by the cutlass-wielding bandit. During the attack, Sookram's left foot was severed from below the knee.
Sookram, however, managed to raise an alarm which saw the Brazilian businessman running to his rescue. He reportedly put up a fight with the men during which a finger was chopped off.
The two perpetrators then escaped with $900,000 in cash. The two injured men were later rushed to the Isseneru Medical Health Centre where they were treated.
However, due to the severity of their injuries, they were both air-dashed to the Georgetown Public Hospital Corporation (GPHC).
In a brief interview with Guyana Times Sookram's mother, Sarijudai, explained that due to the injuries her son sustained, he would have lost a significant amount of blood. Due to his condition, she added, he was air-dashed to Georgetown where he was admitted a patient at the GPHC.
At the medical facility, the family members were informed that Sookram is in need of blood before they could perform any surgery. Nevertheless, the family was able to mobilise the blood needed.
The devastated woman explained that her son recently moved to Region Seven to live with his wife and a seven-month-old baby.