…as Guyana, Barbados work for joint destination marketing
The inaugural InterCaribbean Airways flight on Friday made its entry into Guyana, a stepping stone in opening travel to 13 destinations in the region.
Welcomed by Public Works Minister, Juan Edghill; and Tourism, Industry and Commerce Minister, Oneidge Walrond, the flight arrived from Barbados at the Cheddi Jagan International Airport. Onboard was Barbadian Tourism and International Transport Minister, Senator Lisa Cummins.
Headquartered in the Turks and Caicos Islands, the airline connects 27 cities in the Caribbean. Roraima Group of Companies will be the local partner and handling agent. They are seeking to incorporate jobs for Guyanese within the operation.
Chief Executive Officer of InterCaribbean Airways, Trevor Sadler expressed that this arrangement has been in the making for some five years. Now, the pandemic created an opportunity for this venture to materialise, allowing connectivity between Guyana and a majority of major Caribbean locations.
The CEO remarked, "The pandemic has been both kind and cruel to the industry. At the same time, it opened the doors of opportunity for InterCaribbean to further our reach into the Caribbean…We have a network of 27 cities across the Caribbean. We can connect you with almost all of the Caribbean. Right out of the gate, you will be able to connect with 13 of those cities via one, two or three stops."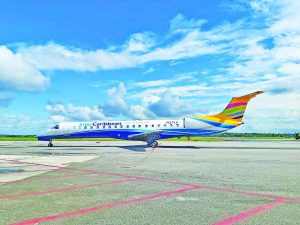 Additionally, plans are underway to train Guyanese flight attendants to service the industry. An office is being established at the Giftland Mall to further establish their presence.
The Public Works Minister shared in his remarks, "We're not just talking local content as a façade or a cliché. We mean it…We're not going to be a Government that gives away Guyana. We're going to be a Government that develops Guyana. In developing Guyana, we encourage partners, welcome investments, respect people who come in and we want them to work with us to uplift our people."
Joint destination marketing
Minister Walrond was keen to note that Barbados and Guyana will be marketed together for their various attractions and niche destination features for tourists and visitors. With this new addition to the fleet of existing airlines, it will give travellers widespread options.
She divulged, "In relation to the collaboration between the two countries, we continue to remain committed to tourism as one of our largest and highest export earners here in Guyana. We remain committed to our tourism product…The leisure and business travellers are all coming to Guyana and Guyana is a prime spot for these kinds of investments."
She reiterated that there is space for more carriers to enter the Guyanese market, and it will be supported to create greater access.
The Barbadian Minister added that this will further enhance connections between the two countries, which already share a robust relationship and bilateral partnerships.
"We have committed to joint destination marketing; the sun, sand and beaches of Barbados and the beautiful forestry and inland areas of Guyana. We commit to market together, our two destinations. In addition to those things, we want to be able to develop partnerships so that the two countries are able to identify goods and products in particular that originate from Guyana and can be sold in Barbados and in the reverse," Cummins outlined.
She added, "We have also committed to ensuring that people can see what we see between our two countries. We have agreed that there will be joint information bulletins on our television stations, sharing what opportunities are available in tourism in between our two countries". (G12)