Hundreds of residents in the Upper and Lower Pomeroon communities of Region Two (Pomeroon-Supenaam) on Thursday received cleaning hampers, food hampers and water purification tablets from the Civil Defence Commission (CDC).
This exercise was done to bring relief to households that were severely affected by excessive rainfall over the past few days, in which several parts of Region Two (Pomeroon-Supenaam) were inundated. Among the communities benefiting from the initiative were Karawab, St. Monica, Kabakaburi, Siriki, and Jacklow.
In some of the areas that were inundated, residents were forced to relocate to higher ground. Guyana Times understands that two households were relocated to another location in Karawab, while six families from Kabakaburi had to be relocated to the Pomeroon Multipurpose Centre.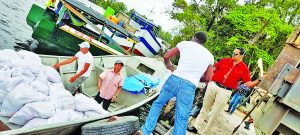 The CDC intervened after receiving a report that many households, farmlands, schools and health posts were flooded. In a release, the CDC said it received information that residents of the affected villages are in possession of the water purification tablets, but, in some cases, they do not have containers to store potable water. As a result, the CDC has dispatched several collapsible storage containers to the areas.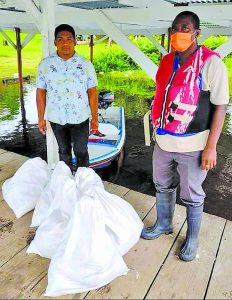 Officials of the Regional Democratic Council (RDC) also assisted with distribution of cleaning hampers to persons living in the area. However, the Commission is currently mobilising additional resources, such as medical kits, food and cleaning hampers, and collapsible storage units, to be sent to Region Two.
In addition to that exercise, a team was in the area conducting a further assessment, to determine where resources are needed.
Regional Councillor Faraz Baksh explained that a list of the affected residents was submitted to the Region Two administration. Those persons, he said, were subsequently contacted to receive the much-needed assistance.
Seandra George, a mother of six who benefited from receipt of the hampers and other medications, expressed gratitude for the assistance, and especially thanked the Regional Health Officer for ensuring medications were dispatched to the health centres in the area before the floods.
Another resident of the Lower Pomeroon, Howard Thomas, related that he was happy for the assistance, while noting that he is engaged in small-scale farming in order to provide for his four grandchildren.
"Due to the flooding, my crops are inundated with floodwater. I am not sure if my vine crops will survive, because the water is still on my land, and my farm is where I get a meal on my table to eat," he added.
The Toshaos of Upper and Lower Pomeroon have also expressed gratitude to the CDC and the Regional Administration for the prompt response to their pleas.