…says 2019 version unconstitutional, illegitimate
President Dr Irfaan Ali said that the decision to scrap the Natural Resource Fund Act it found when it entered office and replace it with one of its own, was to add more transparency and legitimacy which will hold the Government more accountable.
He has made it pellucid that the new Natural Resource Fund Bill is a more transparent and legitimate one than the 2019 version it had inherited, which was severely deficient.
The parliamentary Opposition has been critical of the new piece of legislation for the Natural Resource Fund recently laid in the National Assembly and expected to be debated today. In a video address on Tuesday, however, President Ali explained why the new bill is necessary.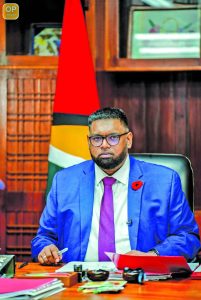 "Why is there a need for a new Natural Resource Fund Bill? Why was it necessary for us to do this? Let me start by saying this was a campaign promise, it was a campaign promise that we were going to have an amendment of this bill for a number of reasons."
"One, the old bill is unconstitutional and illegitimate, we seem to forget that this bill was passed by the Parliament in January 2019 after the No-Confidence Motion had been approved so, the bill has no legitimacy, so it's unconstitutional. The second issue is that the Act was passed without any input or any involvement by the then parliamentary Opposition," the Head of State outlined.
The President noted that the then Opposition took a conscience decision to boycott the National Assembly because the former Government had lost its mandate. But additionally, President Ali noted that the old bill itself had several worrisome flaws that had to be corrected in the new bill.
"The Natural Resource Fund Act also had a number of fatal flaws in its content which we had to rectify before the Act could have been made operational. What are these fatal flaws that the Act had inside?"
"The governance structure, it was severely deficient with no governing body such as the Board of Directors, the Santiago Principles require a governing body, there was no governing body as is required by the Santiago Principles. The absence of a Board of Director in the old Act is compounded by the excessive power, rules and responsibilities that was vested in one individual, the Minister of Finance," President Ali explained.
According to Ali, the new bill drastically reduces the powers of the Finance Minister. The Board taking over much of these powers will include representatives of the Private Sector and Parliament.
The President further spoke of some of the safeguards in the bill, including mandating the Finance Minister to publish all money entering the fund, within three months. President Ali also made it clear that the money will be spent on developing Guyana, something he said his Government will not be deterred from.
Currently, there is approximately US$534 million in oil revenues that Guyana has earned thus far, including some US$388.7 million from the seven lifts of more than seven million barrels of oil to date, being held in the Federal Reserve Bank of New York. The Peoples Progressive Party/Civic Government has maintained that it would not touch the monies until the proper legislative infrastructure is in place to manage the use of the funds.
To this end, Senior Minister with Responsibility for Finance, Dr Ashni Singh last week tabled the Natural Resource Fund Bill in the National Assembly, which states that these monies are only to be used to finance: "National development priorities including any initiative aimed at realising an inclusive green economy, and essential projects that are directly related to ameliorating the effect of a major natural disaster."
According to the proposed laws, the NRF will be governed by a Board of Directors, comprising as many as five members, who will be selected from among persons "who have wide experience and ability in legal, financial, business, or administrative matters".
But in keeping with the aim of having an arm's-length approach to revenues earned in the oil and gas sector, the bill explicitly states that the Directors cannot be Members of Parliament or anyone whose appointment will be a conflict of interest, among other restrictions.
Meanwhile, the Natural Resource Fund Bill also proposes a $10 million fine and five years' imprisonment for anyone who gives materially false and misleading information or permit such information to be included in any reports or documents. A similar penalty will be imposed on anyone who discloses official information that is deemed confidential as well as anyone who fails to publish information required to be made known under the law.
Additionally, the proposed legislation also simplifies, makes more transparent and removes the discretion in the determination of the amount that will be transferred from the fund to the National Budget.
The Natural Resource Fund legislation proposes that the maximum withdrawals from the Fund in a fiscal year cannot exceed the amount approved by the National Assembly for that period, and that all withdrawals be deposited into the Consolidated Fund. (G3)