…released on $3M bail, application for bail reduction denied
Former Finance Minister Winston Jordan was granted bail in the sum of $3 million on misconduct in public office charges when he appeared at the Georgetown Magistrates' Courts on Tuesday. The charges were brought against the former APNU/AFC Minister by the Special Organised Crime Unit (SOCU).
He was arrested by SOCU, which is the Guyana Police Force's arm that specialises in white-collar investigations on December 3, 2021, as part of investigations into alleged instances of corrupt governmental transactions between 2015 and 2020.
During his court appearance on Tuesday, Jordan was not handcuffed as was the case when former Finance Minister, Dr Ashni Singh was charged in 2018 under the APNU/AFC Government. Those charges against Dr Singh have since been withdrawn. Also, unlike what occurred in 2018 when Dr Singh was made to walk through the prisoner's dock, Jordan sat in the courtroom until his bail was posted and then he exited via the court steps.
Some weeks ago, during the investigations by SOCU, the former Minister complained of "feeling unwell" and he was rushed to the Plaisance Health Centre. He was later released upon the intervention of his lawyers and instructed to return to SOCU the following day, but the agency was later informed that doctors had placed him on bed rest.
However, this did not deter SOCU from continuing its investigations, which led to the institution of the charge. At court on Tuesday, Jordan was not required to plead to the charge, which was read by Chief Magistrate Ann McLennan.
It is alleged that between Wednesday, February 26, 2020, and Friday, July 31, 2020, at Main Street, Georgetown, Jordan wilfully misconducted himself by acting recklessly when he signed a Transfer of Property, which was published in the Official Gazette, to BK Marine Inc.
The charge further stated that the 2.533-acre property situated at North Cummingsburg, Georgetown, was sold to BK for only $20,260,276 when it was worth over $5 billion. The property, the charge stated, was grossly undervalued to such a degree as to amount to an abuse of the public's trust and without reasonable excuse or justification.
Cabinet decision
Speaking with the media after the court proceedings, Defence Attorney Roysdale Forde believed that the bail sum handed down by the Chief Magistrate was excessive. "We made an application for the sum to be reduced but it was not granted."
With respect to the charge brought against Jordan, Forde stated that Jordan did not take it upon himself to unilaterally act to sign any vesting order but rather he would have done so after a process that led to deliberation and determination by the then Cabinet.
"After that process, Mr Jordan would have been simply performing an administrative function by which he would have been signing a vesting order… if the Cabinet decision would have authorised the sale and the circumstances and conditions of the sale as a consequence of receiving a report and documentation and a memorandum for NICIL itself outlining those circumstances so at no time whatsoever, Winston Jordan would have acted solo," Forde contended.
On that note, he stated that since Jordan was acting based on a Cabinet decision, it provides a legal justification and context under which he would have acted.
In fact, SOCU had stated that Jordan was questioned in relation to a series of alleged fraudulent transactions in which he was implicated, involving public funds and State properties estimated to be valued billions of dollars.
These include the sale and vesting of the State's largest wharf facilities located at Kingston, Georgetown, valued at approximately $8 billion (US$40,000,000) which was sold for a mere $110 million (US$500,000).
That property was sold to BK Marines Limited, owned by businessman Brian Tiwari, who was also hauled in for questioning regarding his acquisition of the prime waterfront properties in Kingston, Georgetown.
According to SOCU, the company had only paid 10 per cent of the purchase price, that is, $20 million (US$100,000) and Jordan, as then Finance Minister, went ahead to issue a vesting order passing the title to the purchaser without the payment of any further sum of monies.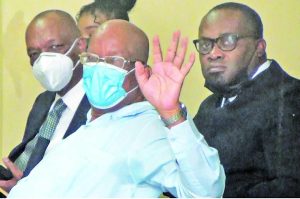 "The vesting order stated that the property is being sold free from encumbrance and liabilities and no further sum of money is owed by the purchaser. Transport was subsequently issued for this property and the value strangely stated on the transport was GUY $400,000,000 million (US$2,000,000.) Further, the agreement of sale stated that title must only pass upon full payment of purchase price," the investigative body related in a release to the press earlier this month.
It contended that its investigators have evidence to establish that a facility that is a mere fraction of the size of the State property under investigation, located some seven miles upriver, was sold by a private company for US$17 million.
"This is only one of several investigations that implicate former Minister Jordan," SOCU stated.
While Jordan had previously denied any wrongdoing regarding this transaction, Attorney General and Legal Affairs Minister Anil Nandlall had announced that there were active investigations into a number of suspected shady dealings under the former APNU/AFC Government and the former Finance Minister had been implicated in a number of nefarious transactions.
These include the hiding of the US$18 million signing bonus which the APNU/AFC Administration had received from ExxonMobil, the alleged sale of several pieces of prime land after the contentious March 2, 2020 General and Regional Elections, and the alleged sale of several vehicles from the Guyana Revenue Authority (GRA) to close associates of the then Administration without observing proper procedure.
Meanwhile, Government, earlier this year, had filed a civil action against Tiwari's company; Jordan, and former Head of the National Industrial and Commercial Investments Limited (NICIL), Colvin Heath-London to retrieve the prime waterfront properties in Kingston. Those proceedings are still engaging the courts' attention.
Jordan is expected to make his next court appearance on February 14, 2022, but as a condition for his bail he was ordered to report to SOCU on the last Friday of every month until the determination of the case.