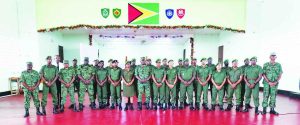 Some 31 newly-promoted Warrant Officers (WOs) and Senior Non-Commissioned Officers (SNCOs) of the Guyana Defence Force (GDF) were on Wednesday decorated with their new badges of rank.
This was done by Chief-of-Staff (ag), Brigadier Godfrey Bess during a badging ceremony conducted at the auditorium of the GDF's headquarters at Base Camp Ayanganna in Georgetown.
This batch of ranks is among the more than 790 Other Ranks whose promotions took effect from January 1, 2023.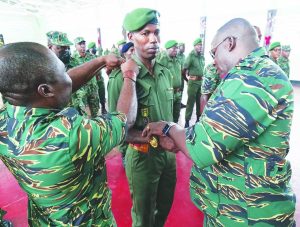 Among those badged were six Warrant Officers (inclusive of one Reservist), eight Staff Sergeants, and 17 Sergeants.
The Sergeants included those who are new to the Warrant Officers and Senior Non-Commissioned Officers Corps and will undergo induction as part of the "backbone" of the Force.
During the simple but significant ceremony, the newly-promoted Non-Commissioned Officers recited the Senior Non-Commissioned Officers Creed, which is an oath and a pledge and also serves as a reminder of the many responsibilities and expectations bestowed upon them by virtue of their elevation in rank.
Brigadier Bess, during congratulatory remarks, charged the WOs and SNCOs to stay focused, to remain committed, and to be disciplined in support of their commanders and the Force.
"You have crossed a significant threshold in your military career. You have transcended to the rank that holds the responsibility in peacetime and war time. Your responsibility has evolved and you must evolve with it, or you will forfeit what you have earned. The way in which commanders, WOs, and SNCOs communicate with each other has a direct bearing on the cohesion and morale of your unit regardless of the size of the unit. I urge you to maintain the type of relationship with your commanders that will send a message that you are a team player," he charged.
Brigadier Bess also reminded the WOs and SNCOs that elevation in rank was not automatic but earned by demonstrating commitment and professionalism in completing their tasks.
Meanwhile, on Wednesday, Colonel General Staff, Colonel Kenlloyd Roberts also decorated five of the newly-promoted ranks under his command with their new rank badges.
Colonel Roberts congratulated the ranks and urged them to continue their pursuit of excellence.
On December 31, 2022, the GDF announced the promotion of some 791 Other Ranks.
Heading the 2022 promotion list was Acting Warrant Officer Class One, Paul Gomes, who was confirmed in his rank.
In addition, Acting Warrant Officers Wavelyn Allicock, Delroy Gibson and Monique Skeete were also confirmed in their positions. Five Substantive Staff Sergeants – Odell Skeete, Crandston Andrews, Maurees Skeete, Cordel Hector, and Sherwin Whinfield – are the newest Acting Warrant Officers Class Two, the GDF had stated.
In his announcement of the 2022 promotions, Brigadier Bess explained that these 791 GDF ranks have been promoted in accordance with Part III Section 16 of the Defence Act 15:01 of 1977. (G8)