– PM Gonsalves says Guyana's housing programme impressive, well priced
St Vincent and the Grenadines Prime Minister, Dr Ralph Gonsalves, who is on a four-day visit to Guyana, toured various housing developments and made it clear that he was impressed by what he has seen and his country would be importing 50 houses from Guyana.
Prime Minister Gonsalves arrived in Guyana from Brazil on Monday on the same flight as President Dr Irfaan Ali. On Tuesday, the Prime Minister toured DuraVilla Homes at Land of Canaan and the Housing Ministry's low-income housing development at Diamond, both on the East Bank of Demerara (EBD).
Afterwards, Gonsalves said he was impressed with Guyana's housing programme, which is better priced than the homes in his own country, nor is there a difference in quality, since, according to the Prime Minister, low- and middle-income houses of both countries sport similar finishes.
"I can speak fairly authoritatively about this type of project, because we have been engaged in St Vincent and the Grenadines since 2001 (my Government) with low- and middle-income houses. In fact, we have a category of houses called no income houses.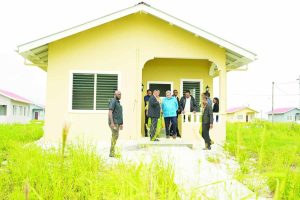 "And these prices are certainly better than ours. And broadly speaking, the finishes are similar. There are things which homeowners will have to do. Like for instance, they can choose a ceiling they want to put in. And what invariably happens is within a year or two, people add on a room or two," Gonsalves explained.
The Prime Minister also revealed that 50 houses would be imported from Guyana to St Vincent. According to Gonsalves, financing is already in place and once the houses arrive, they would help replace the houses destroyed by 2021's volcanic eruption.
The La Soufrière volcano began an effusive eruption on December 27, 2020. On April 9, 2021 there was an explosive eruption, and the volcano h continued to erupt explosively over several days. Thousands of persons had to be evacuated.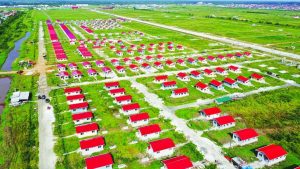 "The houses at DuraVilla are quite impressive. I had sent down the Deputy Prime Minister of St Vincent and the Grenadines a couple months ago, along with their Minister of Housing and technical persons," the Prime Minister said.
"And we're making arrangements to buy and have delivered to us by the end of March, 50 one-, two- and three-bedroom houses. You see we lost a lot of houses during the volcanic eruptions in 2021. And we're building back and we're repairing. But this additional source of houses, which we have the financing and everything, it would add to a speeding up," Dr Gonsalves said.
Both President Ali and PM Gonsalves were in Brasilia, Brazil for Sunday's inauguration of President Luiz Inácio Lula da Silva. During his four-day visit to Guyana, PM Gonsalves is expected to meet with President Ali and several Government Ministers to discuss a number of areas of cooperation.
The PM was accompanied by Housing and Water Minister Collin Croal and Local Government and Regional Development Minister Nigel Dharamlall during his guided tour of the operations of DuraVilla with DuraVilla Head Rafeek Khan.
They were joined by the Director of Projects of the Central Housing and Planning Authority (CH&PA) and representatives of the Foreign Affairs Ministry.
At the International Building Expo that was held at the Guyana National Stadium, Providence, EBD, in July 2022, DuraVilla was among the exhibitors introducing new products and innovative services to the Guyanese market.
On the infrastructure side, DuraVilla Homes is focused on modular timber homes, preconstructed and smaller than typical housing units here. Regional Manager Shalima Fakira had said at the expo that demand was diversifying and people were now seeking smaller living arrangements that can be expanded.
"We realised that there is a different shift in preferences of homes, so persons have now been asking for starter homes that they can expand in the future. Our homes are expandable," Fakira said.
"So, you can start with a two-bedroom home and end up with a four-bedroom home, because it's based on panels. We have seen a lot of interest in our homes in particular. It's very adaptable to any piece of land. You just source your foundation and land." (Jarryl Bryan)