The North Georgetown Secondary School (NGSS) on Wednesday hosted its first business fair that was aimed at encouraging students to become entrepreneurs.
The exhibits were created and organised by students who are preparing for the Caribbean Examinations Council (CXC) Principles of Business (PoB) examination this year.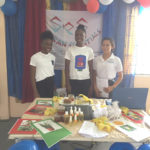 In contrast, the expo was designed to help students in the business stream to put into practice what they have learnt in the classroom. Head of the school's Business Department, Dawn Monplaisir, said that each group was charged to be creative and innovative.
"The idea here is to have them create their own employment. They can go out there and find jobs of their own by making their own product and putting it out there in the market," she said.
Monplaisir further added that the business ideas had to be conceptualised— which is catered for in their syllabus.
"Besides them [being] taught the concept, they have to learn the practical aspect of it. They are taught cohesiveness, they are taught how to work together, they are taught problem-solving strategies," she pointed out.
Meanwhile, some of the products created were bath soaps, hair products, facial cleansers, health shakes, body scrubs, wine, and scented candles.
Students from neighbouring schools were also invited to view the exhibition which is likely to become an annual event.