Defending champions Number 73 Young Warriors defeated Scottsburg United to win the second edition of the Trophy Stall and Upper Corentyne Cricket Association (UCCA) Under-19 Inter-club 50 overs cricket competition.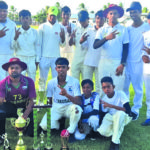 In the final, which was played at the Crabwood Creek Ground, Scottsburg United made 194 in 31.5 overs with Clifford Embrack scoring 50 (5×6, 3×4); Brandon Nandalall striking 27, Ashton Nohar, 25 and Trevon Sukhoo, 21.
Bowling for Number 73 Young Warriors, Sarwan Chitnarine picked up three wickets with Niraha Singh and Eton Odell taking two each. In reply, the team then batted solidly to race to 195-2 in 31.4 overs to win by eight wickets. All-rounder Chitnarine hammered an unbeaten 80 (10×4, 1×6) and was supported by Nicholas Tahal (44) and Singh (24).
In the presentation that followed, Young Warriors received cash incentives and the Trophy Stall trophy from a representative of its Port Mourant branch. The individual presentations were swept by players of Number 73 Young Warriors. Chitnarine was adjudged the man of the match for his all-round performance.
Niradj Singh was adjudged the player with the most runs and also the most valuable while Paul Jabbar was adjudged the player with the most wickets in the tournament. The tournament was sponsored by Trophy Stall's Port Mourant branch through its General Manager Ramesh Sunich. The other teams that participated in the competition were 43 Cricket Club, Number 66 Cricket Club, Number 73 Mandir and Number 52 Cricket Club.
Trophy Stall, with its head office at Bourda Market, is one of the leading sponsors of sporting activities in Guyana. It is also one of the leading sports and trophy stores in the country. General Manager Sunich was happy to give back to the people of Berbice for their unstinted support over the years. He is pleased with the way the competition has been organised so far and has committed to continue the sponsorship.