Turkeyen robbery
– suspected accomplice remains hospitalised with gunshot wounds
Investigations continue into the foiled robbery that occurred on the Liliendaal Embankment Road of Greater Georgetown on Tuesday, August 29, and left a suspected bandit dead.
Crime Chief Wendell Blanhum has indicated that no charges are expected to be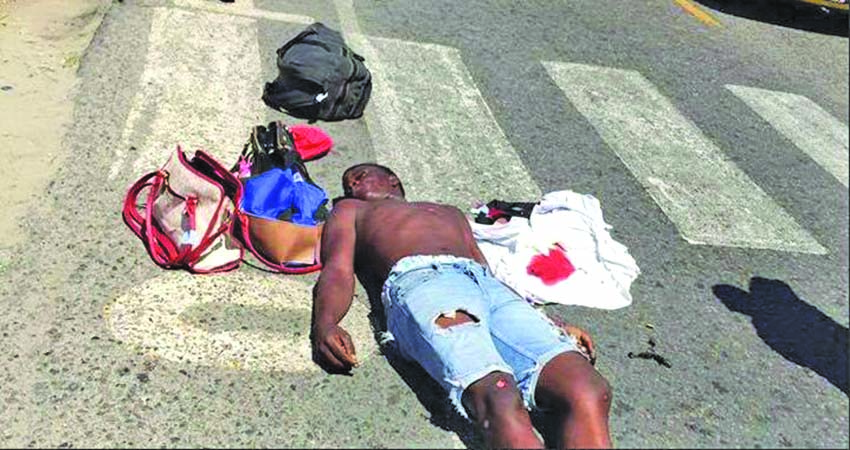 filed against the bodyguard who fatally shot suspected bandit Trydon Munroe, 24, during Tuesday's brazen robbery attempt on a 42-year-old interior flight services supervisor and her security escort (body guard), who had travelled to the Eugene F. Correia International Airport to uplift a package containing valuables.
Reports indicate that the woman was cornered along the Liliendaal Railway Embankment Road in the vicinity of the Giftland Mall junction when a dark coloured vehicle drove into her path, blocking her. Two men then exited that vehicle bearing weapons, and pounced on the businesswoman, being unaware that her armed escort was seated in the vehicle.
Dismissed Prison Officer Trydon Munroe of Levi Dam Angoys Avenue New Amsterdam was shot and killed by the businesswoman's bodyguard during the robbery attack, while his accomplice escaped with gunshot wounds, but later surfaced at a city hospital.
Munroe's lifeless body was found by detectives near a .32 pistol with three live matching rounds. He allegedly had been dismissed from the Guyana Prison Service after several breaches of the rules and regulations of that entity.
Meanwhile, the dead suspect's alleged accomplice remains under police guard at a city hospital, where he is a patient nursing gunshot wounds. This was disclosed by senior police ranks on Wednesday as they confirmed that the suspect's condition is listed as stable, and that he would be charged as soon as he has been released from the medical facility.
No relative of this injured suspect has come forward to confirm his identity. Guyana Times has, however, been informed that the alleged accomplice is a 23-year-old resident of One Mile Linden, Region10, who has been admitted a patient at city hospital on Tuesday with gunshot wounds. Investigations are ongoing.