The Commander-in- Chief of the armed forces, President David Granger, has cautioned ranks of the Guyana Police Force (GPF) that there will be no cover-up of any wrong doings that will tarnish the repairing image of the country's premier law enforcement agency.
Speaking at the Police Force's Annual Officers' Conference on Thursday, the Head of State also warned senior ranks that they too will be held accountable for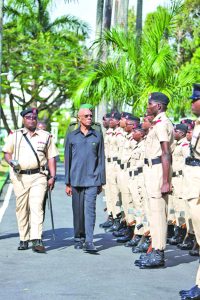 instructions passed down to their subordinates.
"Officer, the days of concealing security sector mistakes and misdeeds are over. The Force's officers will be held accountable for the consequences of their actions and for the instructions that they issue to their subordinates".
Over the years, the Force has been undertaking measures to curb corruption among officers.
"Officers are paid more to do more, not as a reward for past efforts, but as a promise of what they are capable of doing. The Force is not merely one for shine shoes and soft raiment. It is not an organisation only for desk-bound clerks and land-lubbers. Officers have to get out of their offices into the regions and divisions," the Head of State said.
To this end, President Granger reminded ranks of their oath, urging them to show professionalism in executing their duties.
"The most senior officers must visit, they must inspect, they report, and they must correct problems where they exist and whenever they arise. Every barrack room, every bicycle, every boat, every Constable, ever horse, every kitchen, every station, every stable, every vehicle, must be checked. [They] must be checked daily, weekly, monthly and annually by a supervising subordinate or gazetted officer to ensure that they are fit and proper to perform their functions".
Granger underscored that the Police Force, if it is to maintain public security, must ensure that it enjoys public trust. "The idea of public trust arises out of the relationship between the Police and the public, of course. All politics is about people. It follows that whatever trust the people place in the Police must be respected."
In fact, bribery, the President noted for example, is regarded as a notorious crime because it contributes to corruption and, thereby, undermines public trust.
"The existence of a commission, however, is not enough to guarantee that the Force would be officered by persons who are competent, committed and uncorrupted. A Force which is contaminated by corruption cannot safeguard the security of our citizens. Service in the Force must be based on the values of commitment, competence and incorruptibility," Granger noted.
Meanwhile, Police Commissioner Leslie James assured that public security will be maintained.
The theme for this year's conference is "security sector reform implementation – enhancing capacity through training, infrastructure and human resource management."
In recent years, one of the troubling issues that continues to beset the GPF is corruption, particularly in the Traffic Department.
Many ranks in this department have, over the years, been accused of turning a blind eye to many traffic offences, once errant drivers and law breakers pay up.