It is the eleventh week since Guyana reported its index case of COVID-19 and now, the number of cases has remained at 153.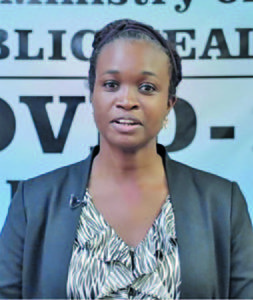 Director of Primary Healthcare Services, Dr Ertinesa Hamilton provided statistics on Monday, saying that out of 40 new tests done, there are no new cases – meaning that the number of confirmed cases to date remains at 153.
The COVID-19 deaths also remain the same, at 12. To date, the total number of persons tested is 1658 with the total number of negative cases being 1505.
There are 70 recoveries, 71 active cases in institutional isolation, two patients in the COVID-19 Intensive Care Unit and 23 persons in institutional quarantine.
It was only last week that Country Representative of the Pan American Health Organisation, Dr William Adu-Krow expressed concerns that authorities are conducting too many unnecessary tests. He had explained that too many persons who do not meet the criteria to be tested are being tested – which could explain why there are not enough confirmed positive cases coming out of the tests.
Meanwhile, with Guyana's COVID-19 cases at 153, authorities continue to plead with Guyanese to follow the guidelines. Dr Hamilton pointed out that in coronavirus-free regions, persons are disobeying the guidelines intended for their safety.
"We are aware that persons residing in the regions where cases have not been reported are taking this situation for granted instead of taking all the necessary precautions to protect themselves. We continue to plead that your only protection is ensuring that you wear a mask, maintain physical distance if you are in public but most importantly follow the curfew and other measures," she recommended.
Again, residents of Regions One (Barima-Waini) and Seven (Cuyuni-Mazaruni) or those residing in mining communities were asked to practice vigilance and be forthcoming with information to assist health officials with curbing the spread of the disease.
"Persons experiencing the signs and symptoms of this disease are asked to contact the hotline if you can or the closest health facility so that we can visit you and provide the necessary services. This is also being asked of all who have been in contact with someone who was tested positive. We call on all other agencies and community groups to reinforce the guidelines to all residents."
Checkpoints
Also joining the update was Regional Health Officer of Region Five (Demerara-Mahaica), Dr Desmond Nicholson, who informed that the region has established checkpoints for screening as persons enter. Thus far, the region has not reported any positive case of COVID-19.
A public health surveillance system including early screening, rapid diagnosis and reporting, case management reporting, contact investigations, and the monitoring of trends was put in place.
"To this end, we are involved in robust surveillance reporting and follow-up of each case of Acute Respiratory Illness (ARI) from all health institutions through the surveillance team which shares its data with the department of epidemiology," Dr Nicholson mentioned.
Meanwhile, an institutional quarantine facility was established with 22 beds and separate wards at the Mahaicony Hospital for isolation and management of patients.
"To ensure a continuation of routine services, we have made strategic shifts relating to staffing at our facilities to ensure that our limited resources provide maximum benefit for the population: Continuation of routine vaccination; reproductive health services; management of mental health conditions as well as noncommunicable diseases and infectious diseases like HIV, malaria and TB (Tuberculosis)."
"These measures also ensure that our healthcare system does not become overwhelmed by a surge of COVID-19 positive patients, and they also buy time for the development of medical countermeasures such as medicines with greater efficacy against the virus, vaccines and even a cure," he shared.
Globally, there are 5,934,936 positive cases with 367,166 deaths. In the region of the Americas, the total number of cases is 2,743,793 with 157,702 deaths.