The world basketball governing body FIBA's mission to develop women basketball leaders is under way with New Zealand's first female Prime Minister, Jenny Shipley, and Dallas Mavericks Chief Executive Officer (CEO) Cynthia Marshall having delivered inspirational and informative talks as part of the new Adelante programme developed by FIBA's Regional Office in the Americas.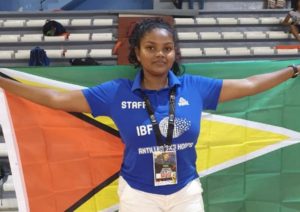 Sileena Arjune had been identified, together with the Guyana Amateur Basketball Federation (GABF), to participate in this project. In addition to personal education from international keynote speakers, Arjune will learn skills and ideas for implementing the project.
There will be quarterly phone calls and an ongoing mentorship programme, with plans to have a culminating experience during the week of the 2022 FIBA Women's Basketball World Cup in Sydney, Australia (September 22-October 3, 2022) for successful participants. Arjune will be able to spread her knowledge to future female leaders in the National Federation and the basketball community when the programme has concluded.
Arjune's project will be the incorporation of 3×3 and 5×5 basketball into the Secondary Schools' Physical Education Curriculum, with provisions for coaches and mentors to liaison with schools' educators to provide guidance on drills and skills and hosting of competitions by volunteering their services as officials.
With the engagement of players at a young age, this enables participation at the grassroot level and can foster development throughout the high-school years allowing students to have the game of basketball transcend into their lives after school with the opportunity to play for a club, or pursue a sports-based scholarship. With the advent of basketball being actively played at all levels, this can increase the interest of sponsors and the establishment of a female league.
One of the strategic pillars for FIBA in the 2019-2023 cycle is to develop and grow the participation of women in basketball. Two of the strategies for this priority are to develop future female basketball administrators and increase gender diversity in FIBA and National Federations.
Adelante will help put qualified women in the pipeline so that when FIBA and/or a National Federation looks for a staff or volunteer leader, they will have numerous, qualified choices from both genders.