Home Affairs Minister Robeson Benn has clarified that there are no pending applications for death, marriage or birth certificates at the Guyana Registrar's Office (GRO) for the years 2018, 2021, and October 2022.
The Minister was at the time responding to questions posed by the Opposition in the National Assembly on Monday.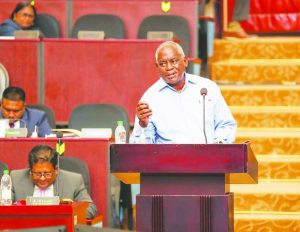 "As of December 24, 2022, there were no pending applications for which registrations have been received by the GRO for 2018, 2021, or October 31, 2022."
Minister Benn explained that the waiting period varies after an application is received by GRO.
The office utilises different procedures to facilitate the requests for certificates, which forms part of its current efforts to modernise its services to increase efficiency.
Further, the waiting time for the applicants to receive these certificates depends on the methods utilised.
Persons applying for the documents through the Guyana Post Office Corporation can expect the return of the documents within seven to eight weeks.
Persons applying by visiting the office can have the certificates within 24 hours to seven working days, which is based on the information provided and available.
However, the Minister highlighted that "If there is a variant which is in the records, an amendment correction is needed."
Persons applying online will receive their certificates within 48 hours and 14 days, which is based on their location in Guyana.
This is also dependent on whether the applicant's request for the certificate/s is to be mailed or a 'walk-in pick up'. Minister Benn also provided the National Assembly with the number of pending passport applications for 2020, 2021, and October 2022 for each of the administrative regions.
He underlined that there were eight pending passport applications in 2020, 16 in 2021, and 44 in 2022.
Minister Benn emphasised that the waiting time varied to receive a passport after an application is received from the Central Intelligence Office (CID) of Guyana for the respective periods.
Generally, the waiting time for a passport in Georgetown, Region Four, from 2018 to 2022 was five working days. The waiting time from May 2022 to October 2022 was 40 working days.
He added, "This is simply because of that transition to a new method of producing the passport and the large number of requests that we recently had concerning obtaining the passport. This is because many of the banks and other institutions required a second method of identification."
From 2018 to date, the waiting time to receive a passport after an application is made at the sub-offices is seven days.