The case against 26-year-old Mikhail Tadius McLennan, the man who was allegedly caught
impersonating a medical doctor, was dismissed by Principal Magistrate Judy Latchman after the prosecution's witnesses were a no-show at court on Monday, which was set for the commencement of his trial.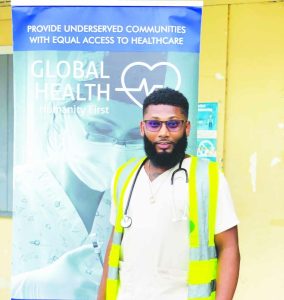 This is according to McLennan's lawyer, Bernard DaSilva. He was set to go on trial at the Diamond/Golden Grove Magistrates' Courts.
Particulars of the charge against him had alleged that on June 3, 2022, at Peters Hall, East Bank Demerara (EBD), not being a medical practitioner, he held himself out to Bibi Hassan, President of the Guyana Cancer Foundation (GCF), as a person qualified to practice medicine.
The charge was laid contrary to Section 13 (1) (c) of the Medical Practitioner Act. The court had ordered that a psychological evaluation be done on McLennan.
Last year June, the Police had said it was probing a complaint made against McLennan, who had been volunteering with the GCF for a while after it was discovered that he was an imposter.
In the young man's curriculum vitae (CV) to the GCF, he stated that he studied medicine at the University of Guyana (UG) and the Texila American University.
Both universities, however, have confirmed that he was never registered as a student at the institutions. Also, Chief Magistrate Ann McLennan, whom the man had listed in his CV as a reference and whom he said was his aunt, has denied being related to him.
In fact, in a Facebook post, the Chief Magistrate wrote: "This character never approached me to be a reference for him and I am in no way related to him."
The University of Guyana, in a statement, had said it viewed the incident involving McLennan as very serious and urged the young man, and all others wishing to take up significant professions, to follow the lawful and bona fide route in doing so.
Further, the university added that it "does provide many avenues for different types of students as well as academic counselling to assist prospective students in making the right choices in fulfilling their dreams and achieving success." It, therefore, urged people to take advantage of these opportunities.
McLennan had initially denied the GCF's claims but eventually publicly apologised for his wrongdoings.
"First off let me start by apologising to everyone that's been affected by this. I acknowledge that I made a huge mistake and I would at least try to explain my side. I did start the University of Guyana in 2016 to pursue what was and still is my passion to become a Medical Doctor. My mom was my only means of support and when she got ill and could not support me any longer. I had no choice but to drop out," he had written in a post on Facebook.
"I did try everything else to make my dream a reality, some of which I'm not so proud of, but when it did not work out, I was too embarrassed to tell some of my closest friends and family of my situation. In my heart and many hearts, I am a doctor because that's my passion so I did insert myself into circumstances that allowed me more knowledge in this field even if it was not in the classrooms."
"I know I went too far by calling myself or introducing myself as a doctor and for that, I sincerely apologise. I do not know where I will go from here but my aim is to the top. I'm only human and I'm still a work in progress," the statement had further read.
The Medical Council of Guyana had called in the Police to investigate the matter.