Guyanese author and fashion icon, Sonia Noel will be celebrating her birthday in style today by launching the Beyond the Runway virtual show.
This new show will feature interviews with people from around the world who are contributing to humanity in a positive way.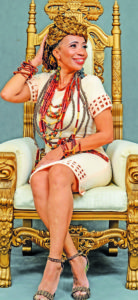 Noel's YouTube channel is expected to be launched the following Saturday and her virtual programmes on the Teachable platform.
Beyond the Runway
The compilation – Beyond the Runway features 30 awe-inspiring short stories that will stimulate readers and listeners to go the extra mile.
"Beyond the Runway, the column, is celebrating one year and I extracted some of the most intriguing, motivating and mind-blowing featured stories. I am certain there is a story that will resonate with everyone regardless."
The Beyond the Runway Column started in 2017 and has featured compelling and inspiring content that motivated many.
The show will be every Saturday from 19:00h for 30 mins and will be streamed live via Stream Yard, FB and Caribbean Power Jam.
The first two guests will be Shelly A Muñoz and Gabriel Funsho Babalola.
Shelly is an award-winning educator from the United States, who is a 20+ year veteran of the classroom, a staff development instructor, and university professor. She has authored several educational journals and is featured in the NSTA STEM Challenges and Academic Success. She has delivered conference keynotes, workshops, and presentations in 10 states, Asia and Europe. Shelly is a STEM consultant, educational literacy consultant for Digi-Tells, and has appeared on numerous television shows and newscast promoting literacy, science education, and STEM.
Gabriel Funsho Babalola, a Nigerian, is a graduate of mechanical engineering, a life coach, an author, business development strategist and a serial entrepreneur. His mission is helping people live and love their best life. He has an online school named: "The well of wisdom Life School" where he helps students to live purposeful, fulfilling, happy and extraordinary lives.
"During the pandemic, I have become even more intentional to soar to greater heights and assist others to do the same. We have great plans for persons tuning in to the launch," Noel Said
The launch of the show will also be streamed live on Sonia Noel's FB page, the National Communications Network (NCN) and Caribbean Power Jam New York NIO FM Suriname and VOG.