In light of the inclement weather, several main access roads in Linden, Region 10 (Upper Demerara-Berbice), are now in a deplorable state, thus causing enormous challenges for road users.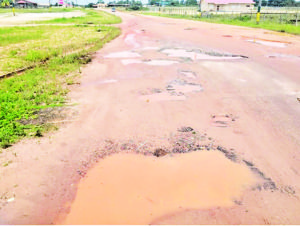 Roads in areas such as Amelia's Ward, Block 22, Central Mackenzie and Wisroc are rapidly deteriorating as residents continue to plead with the relevant regional authorities to conduct urgent repairs.
According to Linden's Deputy Mayor, Wainewright Bethune, areas which the Linden Mayor and Town Council (LM&TC) is responsible for may soon see some relief in the form of "patchwork". He explained, however, that the current weather pattern has been a hindrance.
"The Council would have purchased some road patching equipment…we have compactors. We've purchased equipment to focus and do proper road patching", the Deputy Mayor said. "What has happened is because of the inclement weather, we've made an assessment and we think it's not economical for us to do it at the time. But definitely, we're seeing some changes and, of course, the Council will embark on the patching schedule… and we will see some of the holes on the roads – whether it's Central Mackenzie, Retrieve, these areas that fall within the Council's remit will be patched", Bethune assured.
The Deputy Mayor further stated that the LM&TC only undertakes certain remedial work within the community while noting that all road construction falls within the purview of the Regional Democratic Council (RDC).
Residents of Linden have raised concerns over the poor quality of road construction in the community over the years. According to residents, the roads are not built to last and a lack of regular maintenance only compounds the situation.
Some of the roads in the community are also suffering from massive erosion. Residents have also registered dissatisfaction over the quality of some roads in the community which have not been repaired in years.