Young ladies from several schools around Georgetown spent a part of their Easter holidays competing for the spoils in a double-wicket wind-ball competition.
After the proverbial dust had settled in the National Gymnasium on Mandela Avenue, the pair of Carlisa Allicock and Esther Adams emerged champions of the annual AL Sport & Tour Promotions' NSC Easter holiday schoolgirls' double-wicket windball competition.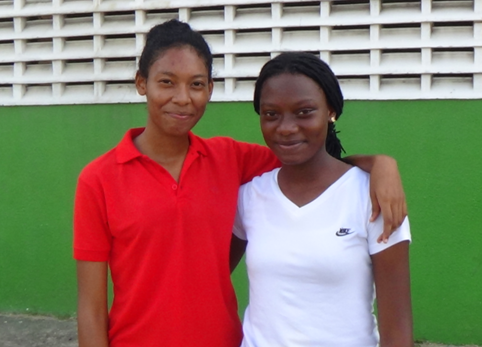 In the third place play-off, Stacy Flores and Angel Hunte battled for the last podium position after missing out in the semi-finals. Put in to bat first, Flores and Hunte posted 44-1, with Flores top-scoring with 32.
The reply posted by Kellann Fredericks and Alexis Noel fell short of the target by 5 runs, with them reaching 39-1. Noel contributed the bulk of the chase, with 36.
The final encounter was a high-scoring one, with the young ladies displaying their batting prowess to make the most of their limited overs. Carlisa Allicock and Easter Adams batted first and posted a mighty 68-1 from their allotted overs.
Keisha Jones and Erica Mentore avidly took up the chase, and looked as though they would reach their target; but eventually fell short by 8 runs, after they reached 60-1. Mentore carried the chase with 32, while Jones contributed 16.
Carlisa Allicock was later adjudged the most valuable player (MVP) of the day's programme with both her batting and fielding.
The two-week wind-ball training programme was organised by A Munroe, an NSC Sports Officer. The official presentation of the tournament's prizes will be done on Saturday, May 4.