Anisha Gibbons is already reaping the fruits of her 2019 CARIFTA gold-medal performance as she begins to gain recognition and generous donations for her feat.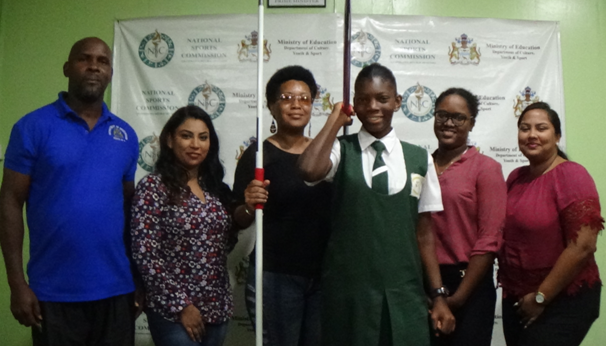 The Girls Under-17 gold medallist on Tuesday received a Javelin from the National Sports Commission (NSC). She was accompanied by her Coach and her school's Physical Education Teacher Raymond Daw at the time of the donation, at the NSC's Homestretch Avenue, Georgetown office.
The more-than-generous donation, which will assist Gibbons to continuously train and perfect her craft, was made possible by Director of Sport, Christopher Jones after he learnt that the javelin that Gibbons currently trains with is almost thrice her age – 45. That was made known to the Director of Sport during a visit to the Linden Mayor last week.
Over the Easter weekend, Gibbons copped Guyana's first Under-17 girls javelin gold at the CARIFTA Games. The young lady, who returned home with her Guyanese colleagues to a hero's welcome, was overcome with tears as she spoke about the monumental achievement.
Furthermore, Jones also asked the teacher to ensure that the 1974 javelin was placed in a history corner at the school. Jones intends to visit the school to get a first-hand look at the aged piece of equipment. He also encouraged Daw to ensure that he produced more gold medals.
In the same breath, the National Sports Commissioner also took the opportunity to support several other sporting ventures such as the Carl Hooper Cricket Club team, which departed Guyana on May 1 for Trinidad and Tobago, cyclist Walter Grant-Stuart, the Rose Hall Town Youth and Sports Club, Transcend Entertainment and New Beginners Co-operative Society Limited, which will be organising a male-only football and male and female softball cricket competitions on May 5 at the Kildonan Community Centre.