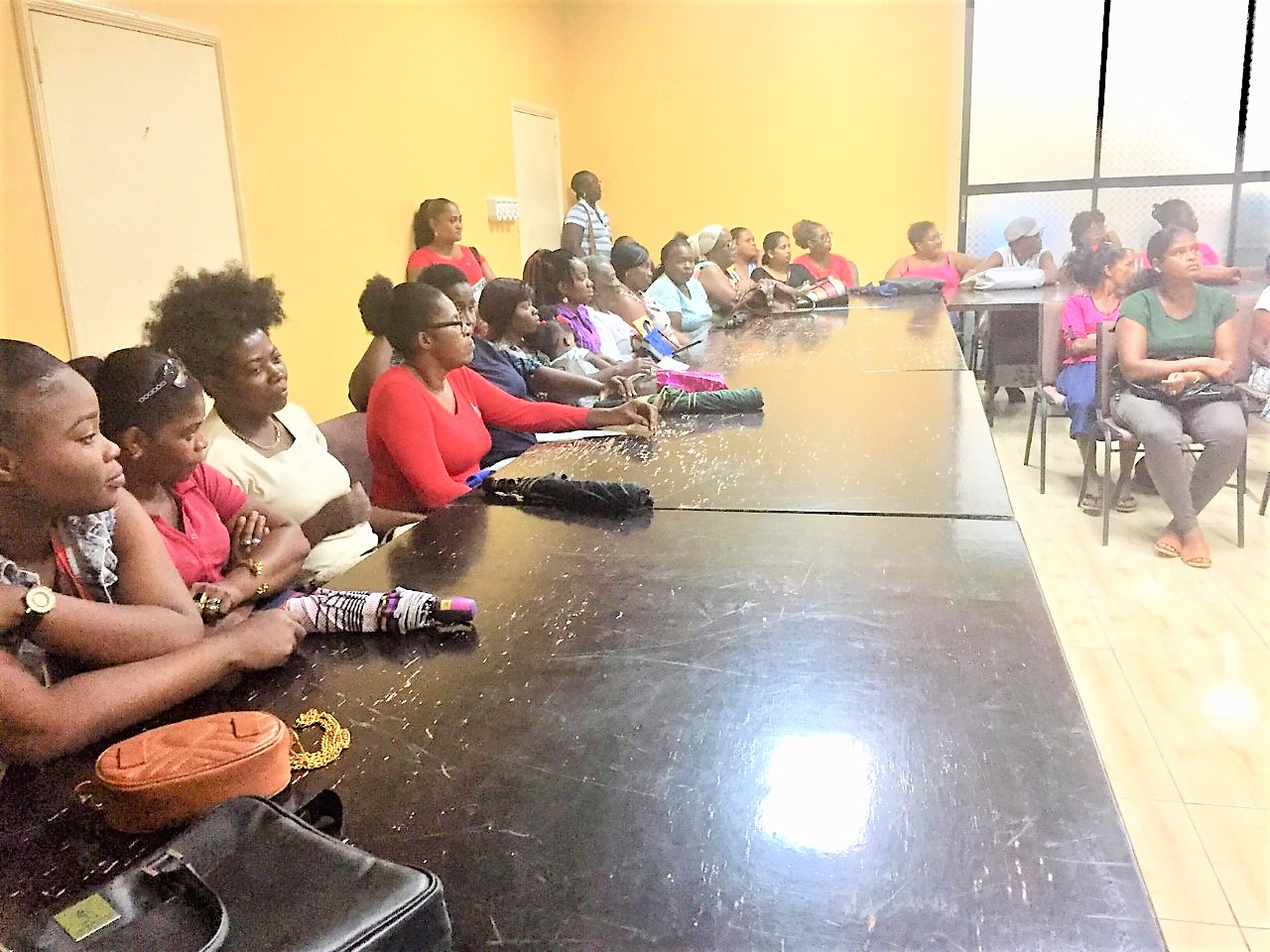 Poultry farmers in the mining town of Linden, Region 10 (Upper Demerara-Berbice), have expressed concerns over a number of issues affecting them, as the community gears towards resuscitating and advancing its poultry production industry.
At a recent consultation with Minister within the Agriculture Ministry Valerie Adams-Yearwood, poultry farmers pointed to a lack of available lands to facilitate the activity and lack of finances including access to grants, amongst other issues.
Others complained of not having enough finance to continue their businesses.
According to many of the poultry farmers, their businesses are affected due to the fact that many people live in residential areas where rearing is prohibited on a large scale.
Some noted that they have applied to the Guyana Lands and Surveys, seeking to acquire land for their businesses but are yet to receive a response.
The Minister during the consultations posited that she will inquire about the applications from the commission.
In addition, other poultry farmers noted that they have been waiting for years for their lands to be surveyed. One farmer indicated that she applied since 2007 for land at Bamia to farm but has encountered difficulties.
A poultry farmer, Nicola Henry, indicated that she does large-scale poultry farming for a living but was told to discontinue by the Linden municipality since she had been rearing in a residential area. She said while she has a desire to move and has applied for land through Lands and Surveys, this has been unsuccessful. While the Minister warned that poultry farming is not permitted in residential areas, she gave the idea of seeking to utilise condemned lots in the area to facilitate the activity.
Another farmer, Elaine Jacobs, of the Christianburg/Dalawala (Block F) area, explained that she has been living in the area for 38 years and has been affected by the lack of electricity and access to water. The woman, who rears pigs, said it has been difficult without access to these amenities.
"We need lights and water. Our children suffering in that area. For years it happening. The bridge all bad at the burying ground where these children does got to traverse…", she noted.
The concern of lack of access roads to get to farmlands at West Watooka was also raised by one of the community's farmers.
A resident, Ruth Esbrand, also sought to receive technical assistance in resuscitating a dormant fish pond and was allegedly assured by Regional Agriculture Officer, Derick Collins that help and advice will be given to anyone interested in this activity through the Regional Democratic Council (RDC) in collaboration with the Fisheries Department of the Agriculture Ministry.
With regards to finances, Minister Adams-Yearwood said she has not yet had an opportunity to look at making grants available but noted that loans are presently being offered through the Linden Enterprise Network (LEN).
The Minister, who is also Secretary of the LEN Board, said priority assistance for loans is now being offered to female farmers, including those who previously applied and were turned down and those currently seeking to secure loans.
This, she noted, is in an effort to assist in revitalising the poultry industry in the region which has been experiencing a decline for years owing to out-of-town market competition.
The Minister said she learnt through a recent stakeholders' meeting that the poultry industry in the community is not as vibrant as it used to be. Of the almost 60 female poultry farmers who were present at the meeting, she noted that just about 14 of them are currently still involved in poultry rearing owing to the circumstances.
She further noted that through the Ministry, the women will also receive technical support and assistance including help with proposals. She noted that this will also aid in creating employment opportunities for women.
"What I would like to see, is Linden, Region 10…be able to self-sustain. Linden must be able to produce enough poultry that Lindeners can use and we don't have to have anybody coming from outside…I think we have the ability to do so, with some help you can do it…you can do this and feel a sense of pride in doing it," she urged.
The Minister further pointed out that the amount of money earned by the farmers does not matter in securing the loans but businesses must have the ability to repay as she urged the women to set priorities and to be serious about business development.
She further urged that they work together and to move from just poultry rearing to packaging and agro-processing through the manufacturing of by-products such as sausages and ham.
Additionally, she told the women to make a start by helping themselves and by utilising the expertise of Resource Officers within the Ministry, noting that training on how to market products will be provided.
The Minister said farmers can also be provided with opportunities for purchasing equipment through various lending agencies. Adams-Yearwood further urged the farmers to form a Linden Women Poultry Farmers Association. She also announced plans to extend the same opportunity to other poultry farmers within the region and the rest of the country.
Additionally, Chief Executive Officer (CEO) of LEN, Tanzia Gasper in her remarks said monies are available for entrepreneurs including poultry farmers since $200 million was allocated for 2019. Depending on the amount borrowed, she said borrowers can get a minimum of 3 months to a year. Gasper noted that LEN can also give funding to construct pens and to purchase supplies.