An off-duty female firefighter, Shekel Rogers, has been reprimanded for responding to the fire at Camp and Charlotte Streets, Georgetown.
This was confirmed by Public Relations Officer of the Guyana Fire Service (GFS), Silyne Griffith, who told media operatives that "that firefighter breached the protocol, and was reprimanded for doing so."
The PRO was at the time providing clarity on a statement issued by the GFS, which stated that "it is against protocol for a firefighter to mount/ride the fire truck without being in full firefighting gear."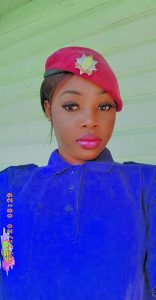 The PRO further indicated that while the firefighter did not ride the truck, she showed up on the scene of the fire and provided assistance without wearing protective gear. For this, the PRO indicated, the firefighter has been reprimanded.
When asked what penalty was meted out against the officer, the PRO did not respond.
Efforts to contact Fire Chief (ag) Gregory Wickham and Home Affairs Minister Robeson Benn proved futile.
The fire in question erupted at around 21:00h last evening, and resulted in several persons being rendered homeless.
However, as Rogers faces disciplinary actions, there has been huge support for her on social media, as persons called out the management of GFS for their actions.
In supporting Rogers, social media erupted in condemning the actions of the GFS, adding that the brave firefighter should have been commended for going beyond the call of duty.
"So what must firefighters do if they see a fire and are off duty? Leave it? Many times off-duty cops help apprehend criminals…do they face disciplinary actions?" one person commented.
"She went beyond the call of duty and now she is facing disciplinary actions. This is not right. She helped saved the whole of Charlotte Street, because, if persons know the area, they would know that if that fire had spread, it would have been devastation on Regent Street," another commented.
"This is what you call dedication and commitment to your duties. This young lady was off duty when the fire started, but that didn't stop her from helping her co-workers and saving another in the process…. Kudos to this young lady."
"…one thing I can tell you about this queen is that she is passionate about her job…I'm so proud, thank you for serving," a friend commented on social media.