…Pres Ali assures Guyana will spare no effort to defend territorial integrity
…as Venezuela now accuses US of "aggression"
Venezuela's attempts to infringe on Guyana's sovereign right to auction its oil blocks were on Wednesday brought by President Dr Irfaan Ali to the attention of the United Nations General Assembly (UNGA), where world leaders are gathered in New York for the 78th session.
During his presentation at the UNGA, President Ali noted that Venezuela's spurious threats date back over fifty years. He noted that Venezuela's threats continue despite the intertwining years, and that the Spanish-speaking country's latest antics have been threatening Guyana over its work in the oil blocks.
"When I addressed the Organization of American States last Friday, I recalled to that hemispheric body how Guyana was excluded from the OAS for 25 years from its birth as a nation on account of a spurious territorial claim to two-thirds of our homeland by Venezuela. But justice prevailed, and Guyana was ultimately admitted.
"It is sad, however, that fifty-seven years after Guyana's Independence, we remain threatened. Just last night, Guyana received a very threatening message from Venezuela. It came in the form of a communique attacking Guyana for putting certain oil blocks in our sovereign waters up for bid," President Ali further said.
According to the President, Guyana considers this a threat to regional and international peace and security, as well as to Guyana's investment partners.
President Ali also demanded before the world leaders that Venezuela honour its obligation under the Charter to pursue only peaceful means to settle any disputes it may have with Guyana.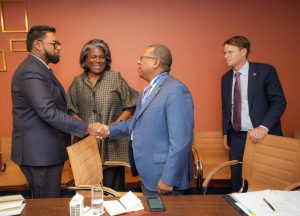 Ali noted the importance of allowing the Court to decide, which would ensure that the resolution reached is peaceful, equitable, and in accordance with international law. For his part, the President assured that Guyana would spare no effort in defending its sovereignty and territorial integrity.
"Venezuela's efforts to undermine our freedom, sovereignty and territorial integrity are today before the International Court of Justice, as decided by the UN Secretary General under the Geneva Agreement of 1966. The International Court of Justice's (ICJ's) jurisdiction in the matter has been twice affirmed by the Court," President Ali explained. "We are confident that Guyana's sovereignty and territorial integrity will also be affirmed when the Court issues its final judgement. I express appreciation to every member of the international community that has continued to support Guyana's efforts to preserve its sovereignty and territorial integrity."
Historic auction
Last week, Guyana concluded the bid round of its historic oil blocks' auction, receiving 14 offers for bid blocks offshore. A total of 14 blocks were up for auction. On Tuesday, however, Venezuela issued a communique in which it protested against this oil blocks' auction, even though all the blocks are in Guyana's sovereign territory.
In its communique, Venezuela said: "Guyana does not have sovereign rights over these maritime areas, and consequently any action within their limits. It is a violation of International Law, as long as they are not carried out through an agreement with Venezuela."
Venezuela further said that "any illicit and arbitrary concession that Guyana grants, has granted, or intends to grant in the areas in question is unacceptable and violates its sovereign rights, and warns that these actions do not generate any type of rights to third parties who participate in said process."
Condemnation of Venezuela has since flowed from the People's Progressive Party/Civic (PPP/C) Government, the A Partnership for National Unity/Alliance For Change (APNU/AFC) Opposition, Organization of American States (OAS) Secretary General Luis Almagro, and US Assistant Secretary of State for Western Hemisphere Affairs, Brian A. Nichols.
In fact, Caracas was not happy with the US' "interfering position" on the matter, and in a second statement on Wednesday, the Nicolás Maduro Government rejected "…the opportunist and interventionist position expressed by the Department of State of the United States of America in relation to the claims of the Guyanese government, under the tutelage of the ExxonMobil company, which aspires to ignore the legitimate rights of the Venezuelan people over its territory."
It added that the US is trying to "…justify this new attempt to strip Venezuela of its legitimate historical rights and, in turn, encourage a dangerous escalation of a controversy that has been addressed for years through diplomatic and peaceful mechanisms."
Venezuela, in the statement, said it is alerting the international community of the US intentions to create, in our Peace Zone of Latin America and the Caribbean, a military base in Guyana, to turn that country into the spearhead of an aggression operation against the Bolivarian Republic of Venezuela, which would put the peace and stability of the entire region at risk.
"The People and the Government of Venezuela, united in defense of the Homeland, will not give in or be intimidated by pressure, blackmail, or threats when it comes to defending the sacred homeland," the missive further detailed.
Venezuela is laying claim to more than two-thirds of Guyana's landmass in Essequibo. The Spanish-speaking country is also claiming a portion of Guyana's exclusive economic zone (EEZ) in which more than eleven billion barrels of proven reserves are estimated to exist.
Meanwhile, on the sidelines of the General Assembly, President Ali on Wednesday met with the US Permanent Representative to the United Nations, Ambassador Linda Thomas-Greenfield, during which they discussed a number of critical issues, including recent developments concerning the Guyana-Venezuela border controversy, including the upcoming case before the International Court of Justice (ICJ).
The US delegation included the US Assistant Secretary of State for Western Hemisphere Affairs and other officials also attended that meeting.