…Venezuela's attempts to infringe on Guyana "unacceptable" – US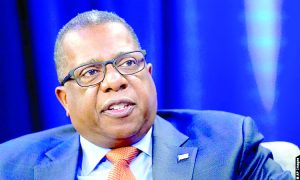 Venezuela's attempts to intimidate Guyana following last week's oil blocks' auction continue to attract criticism, with the United States (US), Organization of American States (OAS), the People's Progressive Party/Civic (PPP/C) Government and Opposition denouncing the Spanish-speaking country.
This follows the communique Venezuela had issued on Tuesday, in which it protested against Guyana's efforts to auction its oil blocks, even though all the blocks are in Guyana's sovereign territory.
On Wednesday, Organization of American States (OAS) General Secretary Luis Almagro denounced Venezuela's utterances from his twitter account. Almagro made it clear that intimidatory tactics seeking to undermine the principles of good neighbourliness have no place in diplomacy.
Further, Almagro affirmed Guyana's right to welcome investors, and noted that Guyana must preserve its territorial integrity and security. This, according to Almagro, must be done at the International Court of Justice, where Guyana currently has a case against Venezuela.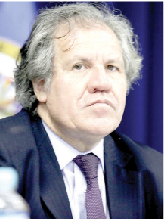 "We vehemently decry intimidatory tactics that seek to undermine the principle of "good neighborliness." We recognize the right of Guyana to welcome investors. Guyana must preserve its territorial integrity & security by addressing its case with Venezuela at the ICJ," Almagro said.
A statement was also released by United States (US) Assistant Secretary of State for Western Hemisphere Affairs, Brian A. Nichols. In that statement, Nichols made it clear that the US views any efforts by Venezuela to infringe on Guyana's sovereignty as unacceptable.
"The U.S. supports Guyana's sovereign right to develop its own natural resources. Efforts to infringe upon Guyana's sovereignty are unacceptable. We call on Venezuela to respect international law, including the 1899 arbitral award & the ongoing ICJ process between Guyana & Venezuela," he said.
Govt & Opposition
The state's position was also reinforced by a statement released by the People's Progressive Party/Civic (PPP/C) Government. According to that statement, Guyana considers Venezuela's latest utterances a threat not only to Guyana, but to regional and international peace and security.
"Guyana has no doubt that under international law the waters in question form part of its Exclusive Economic Zone, where Guyana alone enjoys sovereign rights over the resources in the sea and beneath the seabed.
"If Venezuela disputes this, then it is obliged by the United Nations Charter and the Charter of the OAS to employ only peaceful means to seek a resolution. Both Charters prohibit the threat or use of force against another State," the Government statement said.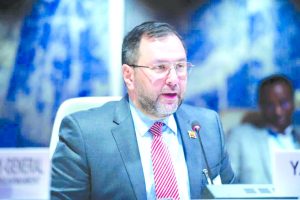 Additionally, Venezuela's communique is considered a threat to all of Guyana's current and potential investment partners. It was pointed out that under international law, Guyana is entitled to the resources in its Exclusive Economic Zone. Venezuela has therefore been urged to approach the right, peaceful channels if it has any grievances with Guyana's management of its own resources.
"Guyana therefore implores Venezuela to honor its obligation to pursue only peaceful means to settle any dispute it may have with Guyana, including adjudication before the International Court of Justice, where Guyana has sought confirmation of the land boundary between the two States.
"Allowing the Court to decide any other dispute between the parties would ensure a resolution that is peaceful, equitable, and in accordance with international law," the statement from the Government further said.
A statement was also forthcoming from Opposition Member of Parliament Amanza Walton-Desir on behalf of the A Partnership for National Unity/Alliance For Change (APNU/AFC) parliamentary Opposition, who threw their support behind the Government's denunciation of Venezuela. The Opposition affirmed Guyana's right to pursue economic activities in its sovereign territory without Venezuelan attempts to undermine that sovereignty.
"The APNU+AFC Parliamentary Opposition supports the position taken by the Government of Guyana in response to the latest attempt by Venezuela to undermine our sovereignty and territorial integrity. We affirm that it is the right of the Government of Guyana to pursue economic activities in any portion of its sovereign territory, or any appurtenant maritime territories, for the benefit of the people of Guyana," the statement from the Opposition further said.
Venezuela response
Meanwhile, Venezuelan Foreign Minister Yván Gil issued a statement on Twitter responding to Almagro. In it, Gil doubles down on Venezuela's claims against Guyana's oil blocks' auction. According to Gil, Venezuela will continue to contest Guyana's auctioning off of its oil blocks. He further accused Almagro of joining a "clique" to attack Venezuela.
"Guyana violates the Geneva Agreement and its own sovereignty to make offerings to transnational interests. We will not allow Guyana to unilaterally dispose of maritime territory that has not yet been delimited. Venezuela will assert its legitimate rights forever. The sun of Venezuela is born in Essequibo," Gil said.
Guyana currently has a case against Venezuela before the International Court of Justice (ICJ). Both Guyana and Venezuela had presented submissions on this matter before the World Court in November 2022.
Guyana's legal team is headed by Co-Agent and Counsel Sir Shridath Ramphal, and includes a member of the Bars of the United States Supreme Court and the District of Columbia, Paul S Reichler; and Professor Emeritus of the University Paris Nanterre, former Chairman of the International Law Commission and member of the Institute de Droit International, Alain Pellet.
Among other things, Guyana is asking the ICJ to adjudge and declare that the 1899 Award is valid and binding upon Guyana and Venezuela; that Venezuela is internationally responsible for violations of Guyana's sovereignty and sovereign rights; and for all injuries suffered by Guyana as a consequence.
Venezuela is laying claim to more than two-thirds of Guyana's landmass in Essequibo. The Spanish-speaking country is also claiming a portion of Guyana's exclusive economic zone (EEZ) in which more than eleven billion barrels of proven reserves are estimated to exist.