While recognising the importance of branding to market local products, Business Director Dominic Gaskin has identified the oil sector as a driving force for name recognition here in Guyana.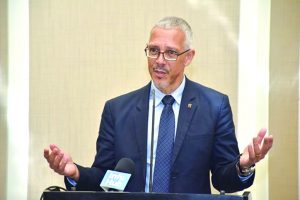 He shared these remarks earlier this week, noting that for a long while, the country was suffering from a deficiency to create reputable products that are demanded internationally. He measured that this response will increase as the booming oil sector expands and urged manufacturers to capitalise.
"What I'd like to emphasise is the importance of name recognition in any competitive environment and the fact that Guyana, for a very long time, has suffered from a lack of name recognition until recently. The discoveries of oil have put Guyana on the map and…this will only increase in the coming year," Gaskin said.
According to him, the thrust in economic growth should be used to transform the sustainable sectors and create value-added products and services. These can be developed alongside the production of natural resources.
"What we want to ensure is that this rapid economic growth is accompanied by accelerated economic development and development that focuses on developing our more sustainable sectors, such as agriculture and agro processing, tourism and other value-added goods and services that can bring in export earnings long after the last drop of oil has been produced".
These initiatives are also set to drive the export revenue uphill, an area which has been dwindling. The Private Sector Commission (PSC) had noted in its annual report that Guyana has imported US$1.8 billion in goods for 2018, but has exported only US$1.3 billion for the same period. That figure represents a 4.4 per cent reduction compared to 2017, when US$1.437 billion was earned.
Meanwhile, the Business Director insisted that now is the time to utilise the attention from the oil industry to maximum potential in the manufacturing sector. This week would have seen the establishment of a workshop on geographical indications, coaching stakeholders to use their location as a branding tool.
"We need to do everything to maintain and to exploit that name recognition…We can make our products and services more exclusive and more desirable. The overseas markets do place a premium on geographical indications and it's more of a social thing. People feel that they're contributing to something that's more familiar or exclusive or unique and they don't mind paying that extra money for such products," he affirmed.
United Kingdom-based oil company Tullow announced the discovery of oil last month in commercial quantities at the Jethro-1 exploration well in the Orinduik Block, becoming the second oil company to announce an oil find offshore Guyana.
This is the first discovery in the Orinduik Block, which is located in close proximity to the Stabroek Block – where United States oil giant ExxonMobil has already made 13 lucrative oil discoveries.
The Orinduik oil block is just a few kilometres from Exxon's discoveries in the Liza and Payara fields.