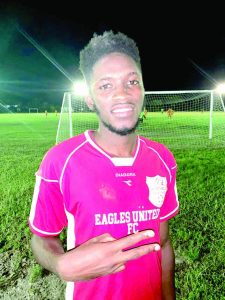 Several thrills were witnessed in the mining town of Linden on Tuesday evening when the Region 10 leg of the One Guyana President's Cup Inter-Ward Football tournament continued with the quarterfinal stage being played at two locations.
Earlier in the afternoon, Kwakwani found themselves beaten at home at the hands of the Aroaima outfit. Dave Torrington was the first to find the back of the net in the intense matchup, shocking both Kwakwani fans and players in the 6th minute.
And his teammate Sherlock Phillips added to the visitors' tally in the 32nd.
However, following resumption of the second half, Kwakwani's Cassius Campbell lowered the deficit with a goal in the 48th minute. At that stage, Kwakwani looked good for a comeback, but Aroaima's Devon Torrington ensured it was not to be when he netted a brace in the 72nd and 87th minutes to push Aroiama's tally to 4 and seal the 4-1 victory.
Meanwhile, the One Guyana Inter-Ward action was just heating up at the Wisburg Ground, where two enticing contests: West City vs Christianburg and Central Mackenzie vs Silvertown, were being eagerly anticipated by a growing crowd.
When the whistle sounded, Christianburg found themselves in control as they opposed West City. West City, however, held a strong defense, resulting in a nil-all score at the half.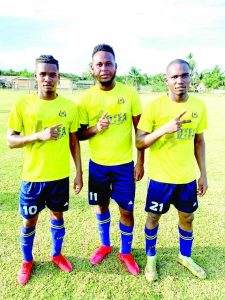 Nicholas Gentle turned out to be instrumental in the game's result, as he struck back-to-back goals for Christianburg in the 60th and 72nd minutes. No reply was forthcoming from West City, who were taught a 2-0 lesson.
The other fixture in the Region 10 leg of the One Guyana Inter–Ward tournament saw Silvertown and Central Mackenzie fighting tooth and nail, and eventually the winner had to be decided from the penalty mark.
The first half was uneventful, with the exception of a few near misses on account of both teams. In the second, however, Silvertown managed to break the ice, compliments of a Shane Hanes goal in the 55th minute. The score remained stuck at 1-0 for much of the game, but just when Silvertown thought they had secured a semifinal berth, Central Mackenzie found their much-needed equalizer through the efforts of marksman Rayon Noel.
With the scores remaining locked at 1-1, the game boiled down to penalties, wherein Central Mackenzie prevailed 4-1 on kicks from the penalty mark.
The inaugural One Guyana President's Cup Inter-Ward tournament is affording community teams the opportunity to display their talents in order to emerge as the best in the region. Following the regional stage, the best players from each region would form a team to represent their region at the National playoffs for a chance to clinch a $2M grand prize on January 1, 2023.