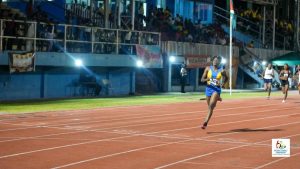 Up-and-coming youth athletes Keliza Smith, Angus Lynch and Ezekiel Newton have each achieved feats that many school-age athletes have only been able to dream of constantly.
During the staging of the 60th National Schools' Cycling, Swimming, and Track and Field Championships at the track and field facility at Leonora, West Coast Demerara, the trio shattered the previous records set in their respective 100M sprint categories, the finals of which were contested on Wednesday night. Coincidentally, the records rewritten by these three super-athletes were all set back in 2017.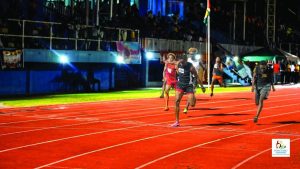 The first extraordinary event occurred in the Boys' Under-18 100M final, when budding sprint sensation Ezekiel Newton (District 4: East Coast Demerara), who has been showcasing his prowess this year at the club level, cruised home in 10.62s to shatter the record set by Daniel Williams. In 2017, Williams, of District 10 (Upper Demerara/Kwakwani), had clocked 10.65s in this event.
"Words can't explain how I feel right now. I've been training long for it. After being beaten for all those years, I come back and redeem myself," Newton shared following his explosive race.
About his preparation, the youth said, "A lot of preparation! Early morning waking up, training late in the night. A lot of preparation! Feels nice to know that you've been working for it and you actually got it," the District 4 athlete added.
The second extraordinary event occurred in the Boys' Under-20 100M event, when District 5 (West Berbice) athlete Angus Lynch ran the race of his life to cross the line in 10.89s and demolish Titus Webster's record. In 2017, Webster, also of District 5, had set the record at 10.94s.
Lynch, who could barely comprehend his achievement, related, "It feels great, honestly! Real, real, nice!"
He added, "To be honest, yes, but I know the competition stiff, so anything could have happened. Gladly, I crossed the line first, and bring home the gold."
And the third extraordinary event occurred in the Girls' Under-20 100M event, when Keliza Smith crossed the finish line in Guyanese parlance "miles ahead of the other competitors". Smith, who narrowly missed out on a CARIFTA medal earlier this year, was unfazed, and confident she would rewrite Toyan Raymond's record.
Raymond had clocked 12.21s in her record-breaking achievement in 2017, but Smith has significantly lowered the U20 Girls' record to 12.03s.
"Well, I'm happy! I know I would've done that!" a very confident Keliza Smith stated afterwards. She added, "I know I didn't have any competition, but I just came out and maintain, and keep going."
The 60th National Schools' Championships will today see the final day of track and field activities being held at the Leonora facility.