…Ministry forced to fix issues as City Hall fails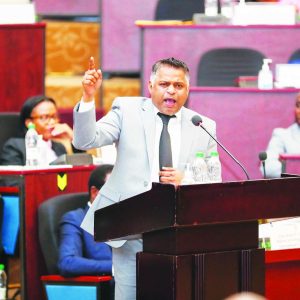 Minister within the Public Works Ministry Deodat Indar has disclosed that for just 2022, over 1100 roads were built in communities across Guyana, as Government is still fixing infrastructure that was left abandoned under the former APNU/AFC Administration.
This disclosure was made during his budget presentation to the National Assembly on Monday. Indar expressed that these works were in dire need, since many roads were left in a dilapidated state under the former APNU Government.
"For the record, the Public Works Ministry alone in 2022 built over 11,000 roads. That was broken, dilapidated infrastructure in all the communities. We built it…there is no disparity in the distribution of resources. That is total mistruth and misleading, designed to do enthusiastic corruption of public good," Indar told the House.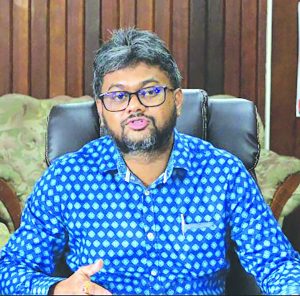 Meanwhile, the Minister responded to criticisms from Opposition Leader Aubrey Norton regarding the significant investments in infrastructure.
He expressed that when a template has been set for industrialisation, there must be spending to see its fruition.
Moreover, Indar called out the Opposition for treating the oil sector as a 'stepchild'. He expressed that while traditional sectors are performing well, oil and gas is penetrating all of these in a cascading effect.
"When you set a template for industrialisation, you have to spend and build it out. Most of these Opposition MPs treat the oil and gas sector like a stepchild. It cannot be. It is a major part of the structure of the economy. It is driving the economy a lot. We can't treat it like a stepchild," he added.
Among his issues raised was the fact that the Georgetown Mayor Ubraj Narine has reportedly failed to address key infrastructural matters in the city, which is now falling on the shoulders of Central Government.
He made these comments in light of accusations that the Ministry is stymieing the work of the municipality.
"If the Mayor was doing his job, we wouldn't have to be patching all the streets in Georgetown, fixing all the drains. His function, we are fixing it everywhere you go. Billions of dollars we are spending at the Ministry of Public Works to do what he is supposed to do. I don't understand that we're not allowing him to function. We would be glad if he could function but he doesn't."
Meanwhile, Indar did not spare members of the Opposition, which sought to call out the incumbent Government on accountability and transparency.
He voiced, "They have disgraced this country and tarnished the image of the country. We are building it back now. Don't come here and lecture us about how to run a country and a Ministry. If we didn't know, the people of this country would not have put us in Government. Imagine the APNU is talking about accountability. When we asked the Finance Minister about the US$18 million, he said was a gift. Never disclosed it until somebody leaked a report." (G12)