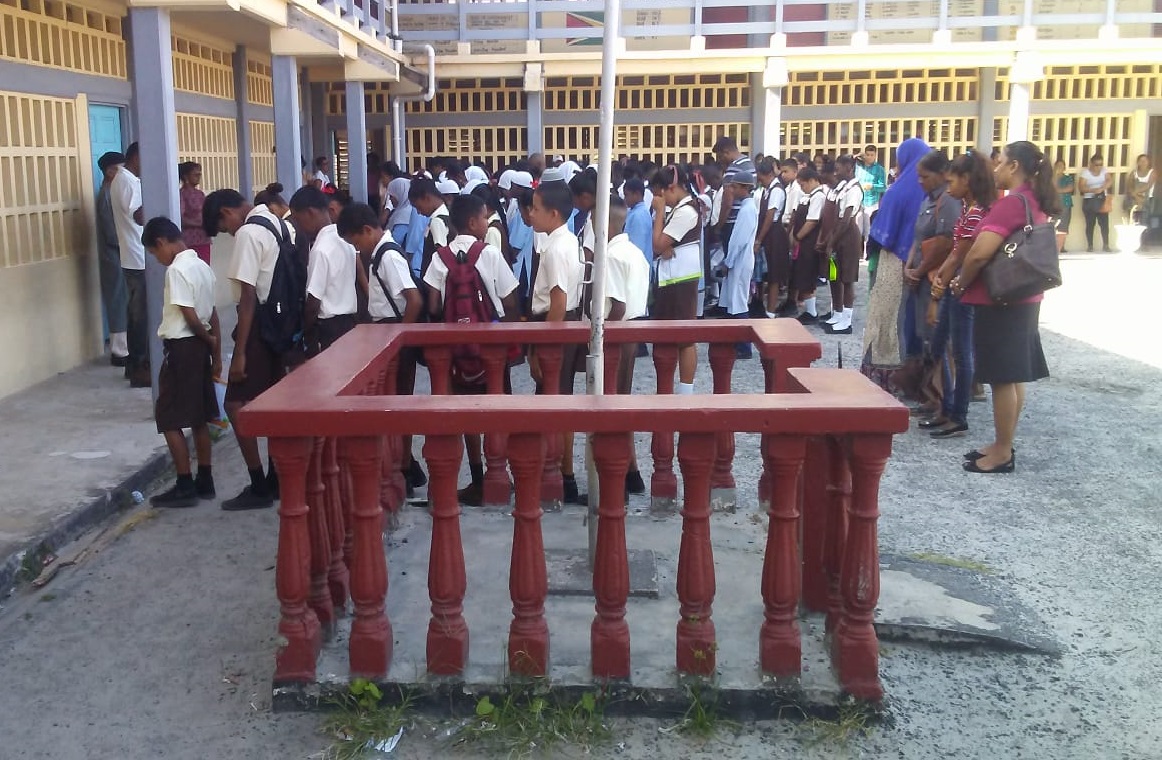 The National Grade Six Assessment (NGSA) commenced on Wednesday with a sitting of 14,715 students across the country, who are all contending for a place at a reputable secondary institution.
The examination, which will conclude on Thursday, is written as a formal completion of the primary level and students are tested in four subject areas.
On Wednesday morning, many students eagerly entered their respective schools to complete the examination after months of studying and preparation. While some were nervous, others remained confident that they will surely succeed. English was written in the morning, followed by science in the afternoon hours.
Guyana Times visited numerous schools to get a review of the assessment and mixed reactions emanated from the students.
At the North Georgetown Primary School on Woolford Avenue, Georgetown, most persons seemed to have been well-prepared but shared that English Paper Two was challenging.
Deli Chan explained that she received support from her parents, who ensured that she remembered all the topics.
"I was both scared and overconfident but then I prayed and understood everything. We got special advice when we didn't understand a question. My mom would usually be helping me so I was really ready," the 11-year-old said.
Her colleague, Tyrel Cadogan, revealed that he found the English paper to be quite difficult. As such, extra attention was needed to make the right choices.
"Most of the stuff was hard but I know I will pass Science because I like that," said Cadogan, as he is hoping to attain a place at Bishops' High School.
Students attending the Stella Marris Primary School were convinced that the NGSA was easy. Most of them, during the lunch break, started preparing for the following subject.
Meanwhile, at the Eccles Primary School on the East Bank of Demerara, many children said the first two subjects challenged their minds, even after many hours of lessons and reading.
Reginald Rudolph told this publication, "The exam was quite challenging. I would have prayed to God to help me and then I did the exams. I want to get Queens College because that is one of the highest schools".
Education Minister Nicolette Henry and Chief Education Officer Marcel Hutson also visited a few schools within the capital city, such as Ketley Primary, St Stephen's Primary and St Gabriel's Primary.
Both education officials were confident that the syllabuses were covered and students were completely prepared.
Over on the West Coast of Demerara, children attending the Academy of Excellence were confident that the examination was easy. Some stated that they sacrificed extracurricular activities and went to school for additional hours but it was worth it.
Essequibo
In Essequibo, Region Two (Pomeroon-Supenaam), Reanna Parris of CV Nunes Primary told Guyana Times that this year's NGSA was tricky. While making her way to school, she was a bit nervous but this changed after encouragement from her mother. Parris said she is focusing on this exam and will then go on to choose a career path.
Pradesh Dwarka, who attends the same school, said he is aiming towards a profession in computer programming. For him, the exams were easy and he is hoping to receive high grades.
This publication also spoke to Talesh Boodha, who resides in La Belle Alliance, Essequibo Coast. Boodha's main goal circled around doing well enough to get a good job to provide for his family. At that moment, his right hand was fractured but he made it to school on time to sit the exams.
Linden
In Region 10 (Upper Demerara-Berbice), the exams got off to a positive start and a number of parents were observed showing support to students of various schools before the commencement of the exams, as Head Teachers gave their final words of encouragement and offered prayers.
At the One Mile and Wismar Hill Primary Schools at Wismar, Linden, some students noted that they were nervous while some said they were excited heading into the examinations. After completing the morning session, students expressed optimism about the later exams.
Overall, most of the students noted that they were well-prepared and confident while some were not too keen about a few subject areas.
An education official indicated that the students were well-prepared, noting that some teachers even worked with students up to Tuesday. The official said some teachers even finished the syllabus ahead of time and everything had been covered.
The examination concludes with the final sitting for mathematics and social studies today. This year saw an increase in the candidates from 14,551 to 14,715. This is an important examination since the results will determine which secondary institution these students will attend come September.
Prior to this, the students had to write the National Grades Two and Four Assessments back in 2012 and 2014 respectively. A percentage of the marks from all three assessments will be calculated to determine the overall performance of each student.
Berbice
Meanwhile, in Region Six (East Berbice-Corentyne), there were some minor hiccups as children commenced sitting the National Grade Six Assessment (NGSA) on Wednesday.
Officials from the Department of Education were seen visiting schools throughout the region during the morning session.
Most children were early for the exams and were accompanied by their parents.
Teachers and parents were seen at schools in New Amsterdam in prayer sessions prior to the exam doors being opened.
Students attached to St Theresa's Primary in New Amsterdam expressed confidence going into the examination room.
The results for the NGSA will be revealed in July.