…trained to treat passengers better
For years, passengers have been complaining bitterly about the disrespectful attitude of minibus and taxi drivers as well as conductors and conductresses. This type of behaviour will hopefully now be addressed as the Department of Consumer Affairs (DCA) has trained over 200 persons who provide public transportation services.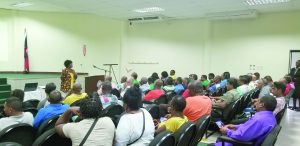 On Saturday the Department explained to the media that a total of 230 such persons from Regions Three (Essequibo Islands-West Demerara), Four (Demerara-Mahaica), Five (Mahaica-Berbice), Six (East Berbice-Corentyne) and Seven (Cuyuni-Mazaruni) benefitted from the training sessions which focused especially on hospitality, first aid, tyre and fire safety as well as the importance of life and vehicular insurance and defensive driving.
The one-day sessions were held between July and August at the Guyana Police Force (GPF) Training Centre, Eve Leary, Georgetown.
Presentations were made by the Hospitality Management Services, Guyana National Bureau of Standards (GNBS), Guyana Red Cross Society, St Johns Ambulance Brigade, Hand-in-Hand, Guyana Trinidad Mutual and Assuria Insurance Companies, the Guyana Fire Service and the GPF.
The workshops were introduced by the Business Ministry in collaboration with the United Minibus Union (UMU), GPF, GNBS and the Guyana National Road Safety Council. It is aimed at improving the services offered by those operating in the public transportation sector, in keeping with the Minibus Code of Conduct, which was launched by the Ministry back in February of this year.
The Consumer Department spoke with Dianne Banwari of Route 73, who said, "I am more than elated to have been exposed to the sessions since it has reinforced the need to provide the best possible service to the commuting public whom I serve…I particularly liked the part on hospitality, I going back out there and up my game because of this training".
Meanwhile, Pastor Felix Walker from Route 42, who also attended the training, said he was glad to participate since it is a timely refresher for many of the things he already knew.
The Department said it intends to conduct similar exercises with service providers in Georgetown and the other regions next year.
Last October, President of the UMU, Eon Andrews stressed the importance of having a standard behavioural pattern set for those operators, as he described the system as currently "out of control". In January of this year, the long-awaited document was finally approved. Among the areas which will be addressed are the operators' mode of dress, language and behaviour. This means that operators will not be allowed to wear inappropriate clothing, thereby exposing themselves, use indecent language or treat passengers in a hostile manner.
In fact, operators will now be mandated to wear a uniform, along with an identification badge, which should include the name of the organisation of association.