By Andrew Carmichael
More than 300 acres of rice have been destroyed by cattle in Corentyne, Berbice. This has led to rice farmers pleading with Government to create a pasture for the cattle owners.
Some farmers are forced to spend the nights providing protection for their crop because, with the removal of the top of the rice plant, it can no longer bear.
Lindira Madho, who cultivates 60 acres of rice said that she has lost in excess of $3 million. The widow told Guyana Times that for three years she had been competing with animals for the rice she planted.
"Last crop I didn't plant any rice but the crop before when I plant the cow eat every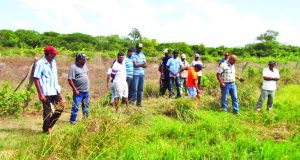 single grain. There was not one grain in the field for the combine to go and cut it."
Madho also told this publication that she attempted to get an appraisal for the damages, but the officer told her that his charges are based on the extent of the damages and as such she relinquished the idea.
"That is why I couldn't plant last crop. I had no money to prepare the land so I had to take a loan this crop to do it and it is the same thing happening," she explained.
Another farmer, who has 300 acres under rice cultivation, Newchand Dulchan, 69, said that he has also incurred a loss since the cattle are left unattended between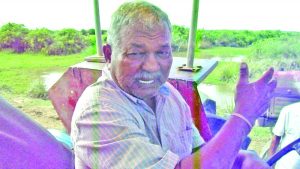 Number 68 and 70 Villages.
"You can't catch them and when you shine a light on them in the night is madness; sometime they rip through your fence. Is not easy because these cows come in from one end and you don't see them but if you look, they in the farm and you have to go and chase them out. In the morning then you see is how much rice they damage," he related.
Another farmer, Manish Persaud added that more than fifteen acres of the 90 acres he has cultivated has already been destroyed while Vijmanand Tajnauth has lost about ten acres of his 80-acre cultivation.
Arnold Tulsi, who has 100 acres under rice cultivation, explained that he is in the current crop only because he was able to secure a loan.
Explaining some of his expenses, the farmers said most of the fertiliser and pesticides have been credited.
"How we go begin pay back the loan? Cow eat out the rice. These crops totally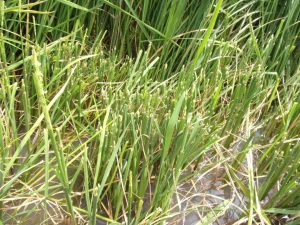 destroy. In the day we got to wuk and night time we got to wuk just for the sake of the rice; now I can't pay back the loan. Workman is $1000 a bag you got to pay them to spray the fertiliser and the throw the paddy and now I lost the crop," the frustrated farmer said.
Cash crop farmers
Cash crop farmers have also expressed their disgust over the situation since they too have incurred losses as a result of roaming animals.
Mohindranauth Dulchan said he stopped planting vegetables after reaping nothing for two crops.
Some $500,000 in preparation, he added, has been wasted. All he has left now are plantains and bananas.
"These suckers suppose to start bearing already but because the cows coming and eat I have to chop of the top so it can grow back and I keep doing that so they will never bear because I have to do it all the time. Don't matter how strong fence you have they breaking the fence and coming in because is wild cow. Dulchan has his farm next to a rice plot.
However, many of the rice farmers are themselves cattle owners. Veji Latchminarine is one such farmer. He said that there is a need for a pasture for the animals.
"All the cattle have to go in the savannah. The Government has to pay some attention to that and clear a piece of land because they take away our savannah to plant cane and they didn't fulfil their promise to clear a piece of land for us," Latchminarine said.
Latchminarine, who has more than 100 cattle, is a former Chairman of the Cattle Farmers Association, he also has 33 acres under rice cultivation and 13 have already been damaged.
Nevertheless, the farmers took their issue to the Office of the Prime Minister and met with the Regional Representative, Gobin Harbhajan.