Hundreds of vendors who ply their trade at the Lusignan Market, East Coast Demerara (ECD), are calling on the higher authorities to reverse the decision of the Mon Repos/ La Reconnaissance Neighbourhood Democratic Council (NDC) to remove them from the current market location.
Over 300 vendors, some of whom are sole breadwinners for their families have been thrown into a state of frustration following the NDC's decision. This decision came due to the road expansion project currently in progress on the East Coast of Demerara.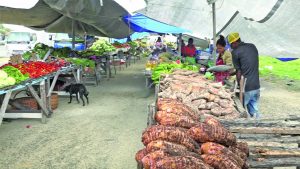 During a visit on Friday at the Market location, Abdool Ahmad, a vegetable merchant, related to this publication that for the past eight years, he merely depends on selling his produce to maintain his family.
"I depend on this business here to take care of my family, I have four kids to mind….I would not like for this market to move because where they taking us at Annadale is in a fine street and all of us here at this market cannot fit in that fine street. If the market move it's going to really throw us out of business, we cannot sell the amount of provision or whatever we selling in that area" he affirmed.
Ahmad, together with all the other vendors, are strongly opposing the NDC's decision to relocate them.
According to the vendors, the proposed site for the new marketplace is a desolate area in Annadale, ECD, in which they are more vulnerable to being robbed since there is little to no proper vending facilities as well as security.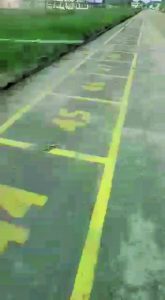 One vendor described the area as "a hole" since there is not enough space, proper lighting or water sources, and no washroom facility. These vendors believe that they will be subjected to significant losses if the market is relocated.
Tajmaul Jagram, a poultry vendor for over 25 years, told Guyana Times that the relevant authorities should allow them to continue vending at Lusignan since they only ply their trade at a specific day in the week.
Additionally, one vendor identified as Shaheed Ahmad has also complained that Chairman of the NDC, Ayube Mohammed has been issuing threats to have their stalls and other belongs destroyed due to their reluctance to relocate to Annandale.
The vendors were given until January 27 to relocate but they refused to comply since the inconveniences outweigh their gains. (Leah Hernandes)