– 159 masses, 15 measures were also confiscated
The Guyana National Bureau of Standards (GNBS) has revealed that a total of 552 scales, 159 masses, and 15 measures were seized in 2019.
They were all either inaccurate, unverified, or in a deplorable state, according to the GNBS.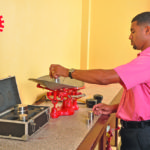 The GNBS said that surveillance activities including the inspection of devices used at shops and markets countrywide were being done to ensure that measurements were stamped and were in acceptable condition.
Apart from seizing and removing the devices, the National Weights and Measures Programme, which is coordinated by the GNBS exceeded its target for 2019.
"For the verification of devices, a target of 33,910 devices was set for 2019 and a remarkable achievement of 45,589 devices was verified. Similarly, for surveillance activities countrywide, the GNBS planned to visit 4395 premises and surpassed this target to achieve 7109 premises that were visited to ensure devices in use were verified," the Bureau stated.
New devices verified during last year totalled 508 scales, 1323 masses, and 31,593 electricity meters. These were newly imported or manufactured locally. The continued importation and manufacture of devices indicated that there was increased usage of devices in the marketplace.
Further, the influx of new devices in trade can also be attributed to the replacement of old and defective devices by vendors and shopkeepers.
"For devices already in use at shops, markets and other locations such as supermarkets, manufacturing companies, rice mills, hospitals, airlines, post offices, petroleum industry, a total of 6332 scales, 12,347 masses, 19 measuring rules and 2038 electricity meters were verified. In addition, a total of 145 weighbridge scales, 1839 petrol pumps, 33 storage tanks, 149 tanker wagons, and 264 bulk meters were verified," the Bureau added.
In 2020, the GNBS aims to further streamline and expand its Weights and Measures Programme and work to ensure weights and measures services are fully available in the 10 administrative regions. This is also necessary to adequately meet the demands of stakeholders.
For 2020, also, the GNBS plans to commence the verification of speed guns and breathalysers used by the Guyana Police Force (GPF) and to expand the verification of moisture meters used in the rice industry.
Importantly, the GNBS intends to fulfil its new role in the oil and gas sector by witnessing the verification of custody transfer meters on the Floating Production Storage Offloading (FPSO) vessels.