…hundreds of visa applications filed for oil sector workers
Citizenship Minister Winston Felix has released figures from his department to show that under the current Government, over 900 foreign nationals have been granted citizenship— with 108 being granted their citizenship during this year.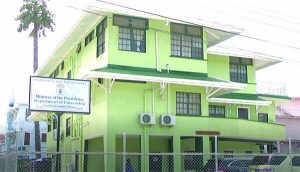 Felix was at the time fielding questions at a press conference on Wednesday about how many foreigners are being granted citizenship in Guyana.
He revealed that as of July 2019, 108 persons were granted citizenship from 30 countries. His figures also go back to 2015, when 141 nationals from 35 countries were granted citizenship.
"Then, in 2016, 192 nationals from 34 countries were granted citizenship, of which one was Haitian. In 2017, 230 nationals from 40 countries, of which seven were Haitian. In 2018, 252 nationals from 42 countries, of which three were Haitian," Felix said.
In addition, he noted that the Citizenship Department has received huge volumes of applications from persons, particularly those involved in the oil and gas sector, where foreign workers make up a large part of the workforce on drill ships and Floating Production and Storage Offloading (FPSO) vessels.
"In terms of oil and gas, foreigners are coming right now. Right now we receive over 100 applications per day to process visas for persons coming to work in oil and gas offshore. I'm being very conservative".
"Some of them, they just come, arrive in the hotel, get to Ogle, helicopter trip to the drill ship. I gather that the numbers will go up when other oil blocks come into operation. But we are dealing with the current applications for work permits with some degree of efficiency which does not disrupt our (other) work".
Pressure
According to the Ministry of Finance's own mid-year report for 2019, the influx of immigrants has the potential of pressuring the local labour market by reducing employment opportunities for Guyanese.
In addition, the Ministry of Finance's report also notes that the influx of immigrants has created, and continues to create, demands on the treasury, which has to set up systems to ensure that migrants are registered and have access to basic social services.
Figures released last month by authorities had showed that between January and July of 2019, total arrivals, taking into account all nationalities, were 135,220. This comes against the backdrop of the large number of arrivals and the rampant use of illegal exit ports to leave the country.
Last year, the Citizenship Ministry had revealed to the Foreign Affairs Committee of Parliament that over 22,000 persons entered Guyana from January to April. The Ministry had revealed that of this number, only 6,170 had departed. In addition, it was shown that there are no records of 17,615 immigrants departing from 2013 to 2018.
A breakdown of the statistics shows that over the past seven months, over 8,500 Haitians entered the country, but a fraction of that number left. In 2017, 3,515 Haitians came but only 291 departed. And according to media reports, up to April of last year, 1, 238 came and 85 departed.
Back in March of this year, it was revealed that despite having thousands of Haitians enter Guyana unaccounted for last year, the coalition Government had sought to extend the time that Haitians spend in Guyana to an automatic six months.
This was detailed in a letter dated January 31, 2019, addressed to then Foreign Affairs Minister Carl Greenidge and copied to Minister of State, Joseph Harmon; Citizenship Minister Winston Felix and Public Security Minister Khemraj Ramjattan.
The influx of immigrants is not limited to Haitians. In 2017, a total of 44,747 Cubans came to Guyana, but 7,255 were unaccounted. Recent figures released by the authorities indicate that for the first seven months of the year, 41,272 Cuban nationals came to Guyana via the Cheddi Jagan International Airport (CJIA).
Meanwhile, the figures indicate that some 11,119 Trinidad and Tobago nationals arrived in Guyana between January and July of 2019. Total arrivals taking into account all nationalities stood at 135,220.