The progress of National U-17 and U-19 opening batsman Alex Algoo has caught the eyes of Guyanese living in New York. As a result, he has been gifted a bag of cricket gear to assist with his development.
The gear consists of one gladiator bag, one HS boots, one thigh pad, one CA bat, one batting pad, and bat rubbers. The opener has the distinction of being among the few cricketers ever selected in two junior teams from Guyana in the same year. He is from the Young Warriors Cricket Club of East Canje, Berbice.
His benefactors are: Chin Singh, David Sookrah, Ramo Singh, Chris Ganesh, Brodo Kunjal, Mukesh Matai, Goordial Matai, Valdat, Buddy Permaul, Katch, Pampo Karan, Wally Bascom, Devan Ramlall and Shanand Dowlatram.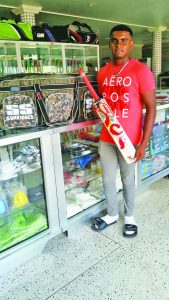 Speaking on behalf of the donors, Anil Beharry, former Berbice Senior all-rounder, Berbice Cricket Board President, GCB and Young Warriors executive, said the donors follow closely the progress of young cricketers in Guyana, Berbice in particular, with the hope that the West Indies Cricket team can someday once again dominate world cricket.
"They wish Algoo well in his future, and hope that this can motivate others to do the same, as they will continue to make significant contributions to young cricketers based on the recommendation of Beharry."
Algoo, in response, thanked the donors, even though he doesn't know most of them personally, and promised take care of the gear and make full use of them. He added that the gesture is very timely, as his career is moving apace.
This follows assistance given to national player Gudakesh Motie Kanhai, sponsored by Bobby Deonarine of Tenelec; and National youth all-rounder Kevlon Anderson, who was sponsored by Lower Corentyne Secondary School Old Students of the USA.